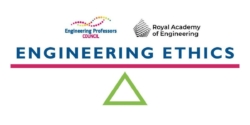 The Engineering Ethics Toolkit is a new resource for engineering educators to help them integrate ethics content into their teaching. It has been produced by the UK's Engineering Professors' Council (EPC) for the Royal Academy of Engineering (RAEng) as part of the profession's ongoing work to embed ethical practice into the culture of engineering. 3 guidance articles and 12 case studies designed for classroom use have been developed in a first phase of work. Explore these resources on both the EPC and the RAEng websites.
The Engineering Ethics Toolkit Advisory Group seeks contributors to add to and develop these resources who can:
In undertaking this work, contributors will become part of the growing community of educators who are helping to ensure that tomorrow's engineering professionals have the grounding in ethics that they need to provide a just and sustainable future for us all. Contributors will be fully credited for their work on any relevant Toolkit materials, and will be acknowledged as authors should the resources be published in any form. Developing these resources will provide the chance to work with a dynamic, diverse and passionate group of people leading the way in expanding engineering ethics teaching resources, and may help in professional development, such as preparing for promotion or fellowship. If contributors are not compensated by their employers for time spent on this type of activity, a small honorarium is available to encourage participation. After a revision process these will be published as part of the Toolkit online.
If you are interested in contributing to our Engineering Ethics Toolkit, fill out this form by the 12th September 2022 and we will be in touch with additional details.
**Whilst this call has now closed, you can still submit guidance articles, case studies, case enhancements, blogs, and other resources to the Engineering Ethics Toolkit. Please see our Get involved page for details.**
Prof. Raffaella Ocone, Chair (r.ocone@hw.ac.uk)
Prof. Sarah Jayne Hitt, Project Manager (sarah.hitt@nmite.ac.uk)
Engineering Ethics Toolkit Advisory Group Members:
Dawn Bonfield MBE, Aston University

Prof. Mike Bramhall, TEDI-London

Claire Donovan, RAEng

Prof. Jarka Glassey, Newcastle University

Dr Sarah Junaid, Aston University

Prof. Thomas Lennerfors, Uppsala University

Dr Darian Meacham, UWE Bristol

Prof. Chike F. Oduoza, University of Wolverhampton

Ahmet Omurtag, Nottingham Trent University

Dr Goudarz Poursharif, Aston University

Johnny Rich, EPC

Dr Matthew Studley, UWE Bristol

Prof. Mike Sutcliffe, EPC

Jonathan Truslove, Engineers Without Borders UK

Dr Nik Whitehead, University of Wales Trinity Saint David
This post is also available here.