Funded by the Royal Academy of Engineering the EPC's Engineering Ethics toolkit was recently launched – containing a range of case studies and supporting articles to help engineering educators integrate ethics content into their teaching. EPC Board member and Professorial Teaching Fellow, Mike Bramhall, at The Engineering and Design Institute (TEDI-London) has incorporated three of the case studies from this recently produced toolkit into TEDI's BEng (Hons) in Global Design Engineering. Mike and two of his students, Stuart Tucker and Caelan Vollenhoven, gave a presentation at this year's EPC Annual Congress about their positive experience teaching and learning with the case studies. In this blog, Mike reflects on how and why he incorporated these resources.
The BEng (Hons) Global Design Engineering programme was launched in our brand new institution – TEDI-London – in September 2022. The programme is a blended mix of online learning integrated with project-based learning. Through this project-based learning approach and working in partnership with industry, our students will create and contribute to solutions to some of the biggest challenges facing the 21st century and be equipped with the skills employers need from future engineers. Within these real-world projects, students work in teams and consider the ethical, environmental, social, and cultural impacts of engineering design. These issues are important for an engineer to understand whilst working with society. This importance is highlighted in the UK Standard for Professional Engineering Competence and Commitment (UK-SPEC: 4th edition) with accreditation bodies identifying ethics as one of the core learning outcomes and competencies in engineering programmes. The Accreditation of Higher Education Programmes in engineering standards (AHEP: 4th edition) reflects the importance of societal impact in engineering. To meet AHEP 4 our programme learning outcomes have been mapped against all required outcomes. The Engineer and Society outcomes include:
Sustainability
Ethics
Risk
Security
Equality, Diversity and Inclusion
To help students understand some of these issues whilst working on their design projects we chose three case studies from the Engineering Ethics Toolkit:
'Choosing to install a smart meter'
'Smart homes for older people with disabilities'
'Solar panels in a desert oil field'
We converted key parts of these case studies to be compatible with our virtual learning environment and incorporated them into one online learning node. To support students in their development of ethical thinking, each case study focuses on different parts of ethics for engineers:
Everyday ethics
Ethical reasoning
Ethical analysis
Students are guided through the case studies in small chunks and asked to reflect upon each ethical issue. In this way students are not overwhelmed with too much information all at once. Eventually students are asked to incorporate their reflection into an end of year Professional and Personal Portfolio, explaining and evidencing how they have met each of the AHEP learning outcomes. The image below shows an example of a reflection task.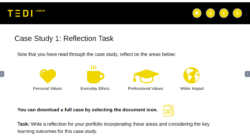 We asked the students to go through the online node individually prior to a class session in which staff then facilitated small-group discussions on each of the case studies. For example, for the Smart Meter case study we suggested that one group could look at being 'for smart meters' and another group 'against smart meters', using ethical issues and judgement in their decision making. Other issues arose during these discussions such as sustainability, data security, risk, and equality, diversity & inclusion. Some of the student comments are shown below:
On a high level, installing a smart meter is being portrayed as the decent thing to do in terms of the environment however it is just an instrument to monitor usage.
One way to be good to the environment is to be careful with your energy usage, e.g. switching off lights, only having heating and hot water when required so installing effective timers/thermostats in parts of your home where you need it.
Security & privacy: Who can see your consumption data and what can they do with it? The meters are all connected to the central wireless network, called the Data Communication Company (DCC). Concerns are that this network could be 'hacked' into. They may see a pattern of no-usage and provide opportunity for theft.
As first year undergraduate engineers we now have an insight and awareness of ethics and the responsibility of engineers in society.
Breaking down the case studies into a more interactive format and in manageable chunks made it easier for students, to stop us being overwhelmed – making it perfect for discussion in small groups.
We could put our thoughts on ethics into our end of year Portfolios – mapping against the AHEP requirements
These comments show how broadly and deeply students were able to engage with the ethical concepts presented in the case studies and apply them to their future work. As our course progresses, we intend to use more of the case studies, and map them appropriately against particular projects that students are working on at each level of the programme.
This blog is also available here.