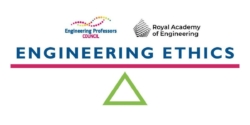 Author: Sarah Jayne Hitt, Ph.D. SFHEA (NMITE, Edinburgh Napier University).
Keywords: Collaboration; Pedagogy.
Who is this article for?: This article should be read by educators at all levels in higher education who wish to integrate ethics into the engineering and design curriculum or module design.
Premise:
Most engineers and engineering educators have experienced or read about a situation that makes them think, "that would make a great case study for students to learn from." Examples of potential cases can be found in the news, in textbooks, and in the workplace. However, it can be difficult to translate a real world situation into an educational resource. This article sets forth a "recipe" based on recent educational scholarship that can be used to create case studies ideal for classroom use.
Case study purpose:
Recipes are created for different reasons – sometimes you want comfort food, sometimes it's a healthy detox meal, sometimes it's a stand-out celebratory feast for a special occasion. In a similar way, case studies should be written with a deliberate purpose in mind. To help you consider these, ask yourself:
What engineering disciplines does this issue most closely relate to?

Which modules or programmes might find the issue especially relevant?

Which ethical issues or professional situations referenced in the

RAEng Statement of Ethical Principles

could be addressed through a case study on this issue?

Are there particular outcomes associated with

AHEP4

or other accreditation criteria that could be highlighted?
Next, it's important to remember that there are different kinds of learning within ethics education. The Ethics Explorer highlights these with its focus on graduate attributes which specify what characteristics and attitudes we hope engineering graduates will develop through this learning. For example, do you want to focus on students' abilities to identify or identify with an ethical situation? Or do you want them to be able to reason through options or make a judgement? Or is it important for them to learn ethical knowledge such as professional codes or practices? Any of these could be a good focus, but in general, it is useful to write a case study aimed at one particular purpose, otherwise it can become too unwieldy. Plus, case studies that have a specific learning aim can make it easier to devise assessments related to their content. 
Case study ingredients:
Just as cooks do when preparing to make a meal, case study writers assemble ingredients. These are the components of a case that can be mixed together in different proportions in order to create the desired result. And, as in cooking, sometimes you should use more or less of an ingredient depending on the effect you want to create or the needs of your audience. But in general, educational scholars agree that these elements are necessary within a case study to promote learner engagement and to achieve the desired educational outcomes. 
1. Setting / Context.  Ethical issues in engineering don't happen in a vacuum. Often they are exacerbated by the setting and context in which they occur, whether that's a start-up tech company in London or an aid organisation in Brazil or in a research lab in Singapore. An authentic environment not only makes the case more realistic, but it also can add important extra dimensions to the issues at stake (Valentine et al., 2020). However, to ensure you don't run afoul of IP or other legal concerns, it can be best to fictionalise company names and invent hypothetical (yet realistic) engineering projects.
2. Characters. Ethics is a fundamentally human concern; therefore it's important to emphasise the emotional and psychological elements of engineering ethics issues (Walling, 2015; Conlon & Zandervoort, 2011). In real life, every person brings their role, point-of-view, and background to their consideration of ethical dilemmas, so case studies should replicate that. Additionally, aspects like age, gender, and ethnicity can add complexities to situations that replicate the realities of professional life and address issues relevant to EDI. Case studies can help students imagine how they might negotiate these. 
3. Topic. Besides the overarching ethical issue that is related to an engineering discipline, case studies are most effective when they incorporate both macro- and micro-ethical considerations (Rottman & Reeve, 2020). This means that they require students to not only deliberate about a particular scenario (should I program the software to allow for users to see how their data is used?), but also about a wider concern (how should transparency and privacy be negotiated when consenting to share data?). The chosen topic should also be specific enough so that there is opportunity to integrate elements of technical learning alongside the ethical dilemma, and reference broader issues that could relate to ethics instruction more generally (Davis, 2006; Lawlor, 2021). 
4. Cause for Conflict. An ethical dilemma could arise from many kinds of conflict. For instance, an employee could feel pressured to do something unethical by a boss. A professional could believe that a stance by an institution is unjust. A person could experience internal conflict when trying to balance work and family responsibilities. A leader could struggle to challenge the norms of a system or a culture. In simplest terms, ethical dilemmas arise when values conflict: is efficiency more important than quality? Is saving money worth ecological harm? Case studies that highlight particular conflicts can help promote critical thinking (Lennerfors, Fors, & Woodward, 2020).
Narrative:
Once the ingredients are assembled, it's time to write the narrative of the case study. Begin with a simple story of around 250-500 words that sets out the characters, the context, and the topic. Sometimes this is enough to gesture towards some potential ethical issues, and sometimes the conflict can be previewed in this introductory content as well.
Then, elaborate on the conflict by introducing a specific dilemma. You can create an engaging style by including human interests (like emotion or empathy), dialogue, and by avoiding highly technical language. Providing different vantage points on the issue through different characters and motivations helps to add complexity, along with adding more information or multiple decision-making points, or creating a sequel such as justifying the decision to a board of directors or to the public. 
Ultimately, the narrative of the case study should be engaging, challenging, and instructional (Kim et al., 2006). It should provide the opportunity for students to reconsider, revisit, and refine their responses and perspectives (Herreid, 2007). Most of all, it should provide opportunities to employ a range of activities and learning experiences (Herkert, 2000). Your case study will be most effective if you suggest ideas for discussions or activities that can help learners engage with the issues in a variety of ways. 
Putting the frosting on the cake:
The community of professionals committed to integrating ethics in engineering education is strong and supportive. Running your ideas by an expert in the topic, a colleague, or a member of our Ethics Ambassadors community can help strengthen your case study. Most of all, discussing the issue with others can help you develop your own confidence in embedding ethics in engineering. The more case studies that we develop from more perspectives, the more diversity we bring to engineering education and practice – we can all learn from each other. We hope you start cooking up your own case study soon!
You can find information on contributing your own resources to the toolkit here.
References:
Conlon, E. and Zandvoort, H. (2011). 'Broadening ethics teaching in engineering: Beyond the individualistic approach', Science and Engineering Ethics, 17, pp. 217-232.
Davis, M. (2006) 'Integrating ethics into technical courses: Micro-insertion', Science and Engineering Ethics, 12, pp. 717-730.
Herkert, J.R. (2000) 'Engineering ethics education in the USA: Content, pedagogy, and curriculum', European Journal of Engineering Education 25(4), pp. 303-313.
Herreid, C.F. (2007) Start with a story: The Case study method of teaching college science. Arlington, VA: NSTA Press.
Kim, S. et al. (2006) 'A conceptual framework for developing teaching cases: A Review and synthesis of the literature across disciplines', Medical Education 40, pp. 867-876.
Rottman, C. and Reeve, D. (2020) 'Equity as rebar: Bridging the micro/macro divide in engineering ethics education', Canadian Journal of Science, Mathematics and Technology Education 20, pp. 146-165. 
Valentine, A. et al. (2020) 'Building students' nascent understanding of ethics in engineering practice', European Journal of Engineering Education 45(6), pp. 957-970.
Walling, O. (2015) 'Beyond ethical frameworks: Using moral experimentation in the engineering ethics classroom', Science and Engineering Ethics 21, pp. 1637-1656.
This work is licensed under a Creative Commons Attribution-ShareAlike 4.0 International License.