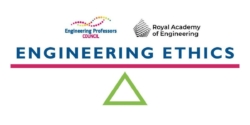 Our original Engineering Ethics Toolkit case study, Developing a school chatbot for student support services, addresses the ethical issues of bias, social responsibility, risk and privacy, and examines situations that professional engineers need to consider, such as informed consent, public health and safety, conflicts with leadership, and legal implications.
This case study involves the employees of a small software start-up that is creating a customised student support chatbot for a Sixth Form college. The employees come from different backgrounds and have different perspectives on the motivations behind their work, which leads to some interpersonal conflict. The team must also identify the ethical issues and competing values that arise in the course of developing their algorithm.
Now, as well as the activities within the original case study, we have provided an expansion on one of the activities in the form of a Case enhancement: stakeholder mapping to elicit value assumptions and motivations.
We've provided this, and other case studies and case enhancements for you to use and adapt in your teaching. If you're new to ethics, we have a growing library of guidance articles available to support you. Please take a look and give us your feedback.
If you would like to give feedback on this or any other Engineering Ethics resource, or submit your own content, you can do so here. We also have a newly created community of practice that you can join, where we hope that educators will support each other, and share their success stories of teaching engineering ethics. You can join our Ethics Ambassadors community here.