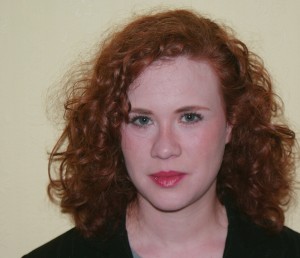 Laura Pickard is a first year EngD candidate at the University of Bristol and National Composites Centre and captured first prize in our 2014 student essay competition.
Her background is in physics, most recently an MPhil in gravitational wave astrophysics, which, while a very interesting area, led her to decide to pursue a more practical career.  Her EngD research will be centred around monitoring- and hopefully improving- the cure process of composite materials as well as setting up a new research capability at the NCC.  Laura has worked in fluid dynamics, materials science and electromagnetism at Dstl and thanks them for sponsoring her MSci in physics and astronomy. Laura has worked with student societies on a national and international level, through the Institute of Physics and International Association of Physics Students, including a term as President of the student branch of IoP and as Vice President of IAPS.  These positions gave her a chance to travel to many interesting places, run scientific visits and conferences, work with people from a variety of cultures- including mediating some heated debates- and represent physics students at industrial, academic and political meetings. Public outreach is important to Laura, who has lectured and led experiments at schools, adult education centres and events for the general public, using hands on demonstrations as much as possible. Laura hopes to pursue a career which will make good use of her scientific background and management skills and sees the EngD as a step in the right direction.  She has retired from Taekwondo instruction in favour of Argentine Tango and is a solo glider pilot. She enjoys baking and has been known to make ice cream with liquid nitrogen.
Laura headed her essay "Engineering the Future" but it could just as easily have been entitled "Real ponies jump.  Toy ponies need a hairband catapult..."  Don't forget to read the footnotes…
An edited version also appeared in the Engineer in April 2014.
Read Laura's essay below
Engineering the Future
Engineering is vital to the UK economy, especially if growth is to be achieved.  But as it stands, we do not have enough young people going into the field.  It is not enough to increase the number of university places available, unless we also have bright young minds eager to fill them.  We must ensure that teenagers, especially girls who are so under-represented at present, consider engineering an attractive and worthwhile career.  How does engineering contribute to the UK economy and how can that contribution be increased? Is there a role for UK engineering in higher education in making this happen? To answer these questions, we must first define "engineering".  This is a surprisingly difficult task, and in itself gives insight into the image problem the area faces.
What is engineering?
The Royal Academy of Engineering provides, in its "Jobs and Growth" report, a collection of various descriptions of engineering[1].  It talks of "developing and supporting products, processes and services for society"[2] or "something of significant technical content for a specified purpose"[3] and, my favourite, "No profession unleashes the spirit of innovation like engineering"[4]. To characterise the contribution of engineering to the economy, we must know to what we are referring.  The "Jobs and Growth" report counts people who self-declare as engineers and technicians and by occupations, over the whole range of economic sectors, categorised as Science, Engineering and Technology (SET).[5]  But more than that, there is in general confusion about what the term "engineer" means. My personal vision of engineering is using  science and knowledge of the world around us to solve problems, develop new technology, or otherwise make ourselves useful to humanity.  Or failing that, at least having  fun trying!  But this was not always my view.  Aged about six, I told my father of my desire to be an inventor.  He suggested I should aim to become an engineer.  Deeply offended, I stalked back to my room and returned to playing with my toy ponies.[6]   Why would I want to fix cars?  Boring. Like so many other children, I had no idea what an engineering career might involve.  At six, this is perhaps forgivable:  my backup choice of career was cleaning windows[7]!  But public perception of engineering remains confused, with most people associating engineering primarily with manual, mechanical work[8].
Contribution to the economy
The "Jobs and Growth" report finds that the "2.3 million skilled people in the engineering-related skills base"  represent 8% of the workforce and 23% of those are working in the "productive economy".  Overall for 2009 the Gross Value Added (GVA) to the economy from engineering related sectors was £370 billion, 28% of the total economy's GVA of £1.3 trillion. This shows the disproportionately high contribution that engineering-related sectors make to the UK economy.  Moreover, SET workers are found in every sector of the economy.  Both parties in the Coalition Government have spoken about the need for growth, in particular of the manufacturing sector .  Manufacturing is an area where engineering is at the core of the business.  This, along with the possibility of improvement in the construction industry , shows that engineering will be of increasing importance in the future. "Jobs and Growth" finds, for 2012 to 2020, that the UK will need an extra 830,000 SET professionals and 450,000 SET technicians, suggesting that up to 50% more science, technology, engineering and mathematics (STEM) graduates are needed. It is worth remembering that engineering is, above all, about innovation.  New ideas can lead to new products or even entire new sectors.  This potential is impossible to quantify, but worth bearing in mind.  An engineering degree is costly, but the benefits to the individual, their employer, the UK and to society as a whole can be immense.
Higher education
It is clear from the data above that the UK needs engineers to sustain and grow the economy.  Many companies can recruit from abroad, but we should not squander our local talent.  For our economy to grow, we must provide jobs, and, equally importantly, people ready to do them. 26% of engineering graduates went on to non-STEM careers in 2011/12, breaking down to 35.8% of female graduates and 24.3% of male graduates.   This is not intrinsically bad, although the gender difference is notable.  Engineering is of use in many areas outside the traditional SEM industries and varied career prospects help to recruit students in the first place.  However, while this demonstrates the value of engineering,  industry needs more graduate engineers. The percentage of UK engineers who are female is woefully small:  8.7% in 2007, the worst in the EU.   Women are half of the potential workforce, it's ridiculous not to make the most of our talents. Industry input into course design is valuable, particularly those which have been developed collaboratively.   Engineers, particularly those good at public speaking, can and should talk to students about possible careers. Employers can get students into industry, through sandwich years, summer work or even pre-university.  My Year in Industry was interesting, enjoyable and taught me far more about practical research in the real world than school or academia could – as well as providing summer work and a sponsorship.    I thoroughly recommend the experience. The Perkins Report applauds the Centres for Doctoral training, and I feel the EngD scheme is also worthy of note here.  Being more industry focused than a traditional PhD, with a sponsoring company as well as a university place, an EngD provides a student with the skills and experience to move from academia to, I hope, a good job in a growing field. Industry can and should recruit from physics graduates- like myself- and other related subjects, and short courses to assist in the transition would be most useful (I am making good use of the taught component of the EngD). The main discovery of my Astrophysics MPhil was that, despite the fascination the stars hold for me, I missed practical work- and that it is definitely possible to have too much FORTRAN . Many engineers do not go through higher education.  The vocational career path teaches many useful skills.  For jobs where degree level training is needed, employers could sponsor talented, non-graduate employees for study.  Mature students, with the benefit of real world experience, gain a great deal from study for themselves and are a source of advice and inspiration for younger students. Ensuring that funding is available for quality teaching is vital, and I hope that the various political parties can all see this as a worthwhile investment in the future of our country.  The signs are positive.  As well as the focus on the manufacturing economy, the Liberal Democrat science policy  supports increased research and development (R&D) funding and the "Ingenious Britain" report by James Dyson  for the Conservative Party suggests more focus (and pay) for science teaching and greater involvement of industry in higher education.  The Green Party supports greater investment in developing renewable energy technologies.   Other parties do not yet have policies available .
School results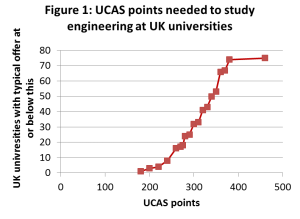 Our university courses need to be filled with enthusiastic, talented young people who are keen to learn, and to become engineers. The typical offer grades for engineering degrees listed on the UCAS website have a mean of 314.5 points and median of 320 points .  The UCAS points required by universities are shown in Figure 1.  Most require mathematics at A level, many also require physics. In 2013, 25,317 (30.6%A*/A) boys and 6,599 girls (36% A*/A) took A level physics.  48, 947 (44.1% A*/A) boys and 31,621(42.9%A*/A) took A level maths.   The dearth of girls taking physics is notable.  Over all subjects, 17.6% of students achieve at least grades AAB.  Of those who achieve A*-C in GCSE physics, only 19% go on to take the A level.  Only 38% of those who achieve an A* at GCSE physics go on to A level.     Clearly we need to look at making physics more interesting and more relevant, particularly to girls.
Engineers solve problems
Engineering is vital to our economy, yet we do not produce enough engineers.  Better links with industry throughout the higher education process is likely to help  as is recruiting from other related subjects.  There needs to be funding for a large number of students on quality courses, with specialist modules, good careers advice  and industrial experience to get them ready to innovate their way to a better economy. But most importantly, there needs to be eager young people to fill those university places.  We have the talent, we just need to provide a reason to study engineering.  Engineering graduates are expected to earn high salaries   but students require more than pay to interest them in a career. It is a shocking statistic that in 2012, 49% of state funded, co-educational schools had no girls taking  A level physics at all.     The Institute of Physics recommend that schools monitor gender imbalance in all subjects and consider avoidance of stereotyping an important factor.  This is true not only in schools but in the home, as evidenced in the Perkins Review, showing parents are more likely to consider engineering a good career for their sons than for their daughters.   Schools should talk to parents about engineering, to dispel the common misconceptions of axle grease and boiler servicing. Tackling the gender imbalance must be part of our solution.   We must cast off the image problem by talking about engineering in a context that appeals to teenage girls. Alas, I have been unable to find any data on this subject[29], but hazy personal recollections and discussions with a number of teachers come up with the same theme – the environment.  Many girls feel strongly about topics like conservation, climate change and animal welfare.  Fortunately, this fits well with the often-stated aim to use more renewable energy and reduce our carbon footprint.  Renewable energy, electric vehicles, sustainable product design, energy efficient buildings and infrastructure and all aspects of environmentally focused technology are of increasing importance- and inspiring to the new generation. Teaching science through real world examples is more interesting than simply the dry facts.  I recall studying topics as varied as sport, archaeology, space and sweets during physics A level.  So, at GCSE level and earlier, I urge teachers to talk in terms of environmentally friendly science.  Tell students that to make a real difference, they need to develop new technologies.  There's no shortage of problems to solve. Want to save the world?  Engineer the solution.
[1] 'Jobs and Growth', Royal Academy of Engineering 2012 ('Jobs and Growth' report)
[2] QAA Subject Benchmark Statement for Engineering 2010
[3] Malpas, Sir Robert, The Universe of Engineering: A UK definition, London, Royal Academy of Engineering 2000
[4] United States of America National Academy of Engineering, Changing the Conversation: messages for improving public understanding of engineering.  Washington D.C., The National Academies Press, 2008.
[5] Greenwood, Harrison and Vignoles, The labour market value of STEM qualifications and occupations, Institute of Education/Royal Academy of Engineering, 2011
[6] Real ponies jump.  Toy ponies need a hairband catapult.  How else will they board their spaceship?
[7] The possibilities presented by a bucket of water and a big ladder seemed wonderfully enticing, especially with a little brother 'helping' at ground level.
[8] http://www.raeng.org.uk/events/pdf/Public_Attitude_Perceptions_Engineering_Engineers_2007.pdf
[9] First quarter 2011 Labour Force Survey, 'Jobs and Growth' report
[10] 2009 Labour Force Survey and data from ONS, 'Jobs and Growth' report
[11] Conservatives- http://www.conservatives.com/Policy/Where_we_stand/Business.aspx http://www.conservatives.com/News/News_stories/2012/04/David_Cameron_economy_speech.aspx
Liberal democrats: http://www.libdems.org.uk/speeches_detail.aspx?title=Nick_Clegg%3a_Building_a_New_Economy&pPK=54d272f1-39c9-4d00-8a27-5666c0d029c9 http://www.libdems.org.uk/policy_motions_detail.aspx?title=Supporting_Manufacturing_-_carried&pPK=4e6d941d-3d13-4e47-8f11-5a171b7257ba
[12] UKCES Working Futures 2010-20, UKCES 2011
[13] Engineering UK Report 2014, Kumar, Randerson and Kiwana.
[14] UKRC analysis of the European Labour Force Survey, 2007
[15] Professor John Perkins' review of Engineering Skills, Department for Business, Innovation and Skills,  2013 (Perkins Review)
[16] Thankyou Dstl.
[17] When I started dreaming in code, I knew I needed to get my hands dirty again.
[18] Science Policy, Liberal Democrats 2012
[19] Ingenious Britain, James Dyson for the Conservative Party, 2010.
[20] http://www.jeanlambertmep.org.uk/issue_detail.php?T=S&id=56
[21] The Labour Party website, and the 'yourbritain' site, came up with nothing when searched for 'engineering', 'education' and 'manufacturing economy'- the same search terms used on the other sites.  Searching the UKIP site for 'engineering' returned an article suggesting the EU might ban Danish pastries. (http://www.ukip.org/newsroom/news/1096-seasonal-madness-as-brussels-looks-to-ban-cinnamon-in-danish-pastries). It seems likely that these political parties have not yet decided on their policies for the next election, or perhaps they need to improve their websites.
[22] Points are explained in the UCAS tariff tables http://www.ucas.com/how-it-all-works/explore-your-options/entry-requirements/tariff-tables
[23] 2013 A level results
[24] Subject Progression from GCSE to AS level and continuation to A level, Department for Education
[25] HESA Longitudinal Destinations of Leavers from Higher Education Survey
[26] Engineering UK 2014 report
[27] Closing Doors, Institute of Physics, December 2013
[28] Polling for Tomorrow's Engineers week.
[29] Neither professional engineering organisations nor environmental charities and lobby groups were able to provide me with a gender/age breakdown of their membership.