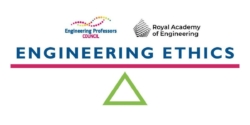 Authors: Dr Sarah Junaid (Aston University); Professor Mike Sutcliffe (TEDI-London); Jonathan Truslove (Engineers Without Borders UK); Professor Mike Bramhall (TEDI-London).
Keywords: Active verbs; Bloom's Taxonomy; learning outcomes; learning objectives; embedding ethics; project based learning; case studies; self-reflection; UK-SPEC; AHEP; design portfolio; ethical approval checklist and forms; ethical design.
Who this article is for?: This article should be read by educators at all levels in higher education who wish to integrate ethics into the engineering and design curriculum or module design. It will also help prepare students with the integrated skill sets that employers are looking for.
Premise:
Engineering can have a significant impact on society and the environment, in both positive and negative ways. To fully understand the implications of engineering requires navigating complex, uncertain and challenging ethical issues. It is therefore essential to embed ethics into any project or learning outcome and for engineering professionals and educators to operate in a responsible and ethical manner.
The fourth iteration of the Accreditation of Higher Education Programmes (AHEP) reflects this importance to society by strengthening the focus on inclusive design and innovation, equality, diversity, sustainability and ethics, within its learning outcomes. By integrating ethics into engineering and design curricula, graduates develop a deeper comprehension of the ethical issues inherent in engineering and the skill sets necessary to navigate complex ethical decision-making needed across all sectors.
Policy:
There is growing advocacy for bringing engineering ethics to the fore in engineering programmes. At the policy level, this is evident in three general areas:
UK-SPEC and accreditation bodies are identifying ethics as one of the core learning outcomes and competencies in accreditation documents.

The inclusion of more descriptive competencies that expand on engineering ethics.

The fourth iteration of AHEP standards reflecting the importance of societal impact in engineering.
However, to translate the accreditation learning outcomes and their intentions to an engineering programme requires a duty of care by those responsible for programme design and development. The following are points for consideration:
Embedding ethics more readily into technical subjects.

A demarcation of engineering ethics in accreditation documents has the purpose of emphasising the importance of ethics and societal impact in engineering programmes. However, this demarcation can implicitly lead to the exclusion of ethics within the other core competencies. It is important that engineering ethics competencies operate

across

the other core competencies. An example of how this could be done is suggested in Gwynne-Evans et al. (2021) and Davis (2006).
Using active verbs and higher-level learning outcomes.

Competencies relating to ethics are often limited to lower cognitive learning levels, such as 'know' and 'awareness of'. When considering the accreditation competencies in programme design, it is important to engage verbs at higher learning levels (Junaid et al., 2021). Verbs such as 'design' and 'exercise' in

Bloom's Taxonomy

would help in designing assessments that reflect this.
Curriculum structure:
In the UK-SPEC (4th edition) guidance the Engineering Council states: "Engineering professionals work to enhance the wellbeing of society. In doing so they are required to maintain and promote high ethical standards and challenge unethical behaviour."
In AHEP 4, students must meet the following learning outcome: "Identify and analyse ethical concerns and make reasoned ethical choices informed by professional codes of conduct"
So, when designing a new programme, ethics should ideally be built into the learning outcomes of the programme and modules at the early design stage and consistently be emphasised throughout. To ensure ethics are embedded, students should be required to consider the outputs of their project work through a societal or community lens, especially if they are undertaking projects with a practical delivery of ethics such as, say, designing for older people in care homes.
For existing programmes, ethics could be most readily introduced through a stand-alone ethics module. It is better, however, for ethics to be embedded across the whole programme, encouraging a holistic 'ethical considerations mindset' as a 'golden thread' across, and within, all student project work (Hitt, 2022). Minor or major modifications could be made to programmes to ensure that ethics is considered and emphasised, such as through the use of active verbs that embed critical reflections of design. For programmes with a large project-based learning component, ethical considerations should be required at the initial stage of all projects.
Learning and teaching activities:
In all efforts to embed ethics in engineering education, there should be a focus on constructively aligning teaching activity to learning outcomes. Examples include: employing user-centred design and/or value-sensitive design approaches and case studies for technical and non-technical considerations, using empathy workshops for ethical design, and ensuring ethical considerations are included in problem statements and product design specifications for decision-making. The use of self-reflection logs and peer reflections for team working can also be useful in capturing ethical considerations in a team setting and for addressing conflict resolutions.
A pragmatic step for programmes that use project-based learning is to encourage these ethical discussions at the beginning of all project work and to return to these questions and considerations during the course of the project. Reflecting on ethics throughout will lead to an ethical mindset, a foundation that students will build on throughout their subsequent careers.
One way of ensuring this for students is to complete an ethical scrutiny checklist, which, when completed, is then considered by a departmental ethics committee. The filter questions at the start of an ethics scrutiny submission would help determine the level of review required. Projects with no human participants could be approved following some basic checks. In some universities it has become policy for ethical scrutiny to be required for all group and individual project work such as problem-based learning projects, final year degree projects, and MSc and PhD research projects. For projects that collaborate with the Health Research Authority (HRA), it is a requirement that scrutiny is through their own HRA committee and it is good practice to put these types of projects initially through a departmental and/or university ethics committee as well. Having students go through this process is a good way of revealing the ethical implications of their engineering work.
Assessments:
Closing the constructive alignment triangle requires assessments that are designed to utilise learning and teaching activities and to demonstrate the learning outcomes. The challenging question is: How can ethics be evaluated and assessed effectively? One solution is through using more active verbs that demonstrate ethical awareness with outputs and deliverables. Examples where this could be applied include:
demonstrating ethical considerations in a design portfolio

in a project thesis or viva

incorporating ethical practice into the marking matrix

developing a conducive team environment through conflict resolution tools

reflection logs and mid-project peer reviews

incorporating ethical enquiry into engineering processes.
For more information on methods for assessing and evaluating ethics learning, see this related article in the engineering ethics toolkit: Methods for assessing and evaluating ethics learning in engineering education.
Conclusion:
Using accreditation documentation to develop effective engineering programmes requires engaging beyond the checklists, thereby becoming more accustomed to viewing all competencies through an ethical lens. At programme design and module level, it is important to focus on constructively aligning the three key elements: learning outcomes written through an ethical lens, learning and teaching activities that engage with active verbs, and assessments demonstrating ethical awareness through a product, process, reflection and decisions.
References:
Davis, M. (2006) 'Integrating ethics into technical courses: Mirco-insertion', Science and Engineering Ethics, 12(4), pp.717-730.
Gwynne-Evans, A.J, Chetty, M. and Junaid, S. (2021) 'Repositioning ethics at the heart of engineering graduate attributes', Australasian Journal of Engineering Education, 26(1), pp. 7-24.
Hitt, S.J. (2022) 'Embedding ethics throughout a Master's in integrated engineering curriculum', International Journal of Engineering Education, 38(3).
Junaid, S., Kovacs, H., Martin, D. A., and Serreau, Y. (2021) 'What is the role of ethics in accreditation guidelines for engineering programmes in Europe?', Proceedings SEFI 49th Annual Conference: Blended Learning in Engineering Education: challenging, enlightening – and lasting?, European Society for Engineering Education (SEFI), pp. 274-282.
Additional resources:
This work is licensed under a Creative Commons Attribution-ShareAlike 4.0 International License.