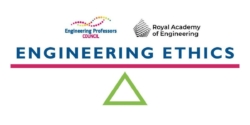 Authors: Professor Dawn Bonfield MBE (Aston University); Johnny Rich (Engineering Professors' Council); Professor Chike Oduoza (University of Wolverhampton).
Keywords: Ethical principles; Code of conduct; Engineering professionals; Ethical decision-making; Ethical behaviour.
Who is this article for?: This article should be read by educators at all levels in higher education who wish to integrate ethics into the engineering and design curriculum or module design. It will also help to prepare students with the integrated skill sets that employers are looking for.
Premise:
The Statement of Ethical Principles published by the Engineering Council and the Royal Academy of Engineering in 2005 (revised in 2017) contains the recommendations to which all UK engineers should comply. It sets out four fundamental principles that all engineering professionals should aspire to follow in their working habits and relationships.
At the launch of the revised document, the Chair of the Engineering Council said "The profession needs to ensure that the principles are embedded at all stages of professional development for engineers and those technicians, tradespeople, students, apprentices and trainees engaged in engineering."
These principles are based on the premise that engineering professionals work to enhance the wellbeing of society, and in so doing they are required to maintain and promote high ethical standards, as well as to challenge unethical behaviour. The principles are the foundation for making decisions when faced with an ethical dilemma in engineering.
The four principles:
The code defines four fundamental principles of ethical behaviour: Honesty and integrity; Respect for life, law, the environment and public good; Accuracy and rigour; and Leadership and communication.
The requirement for engineers to embody honesty and integrity is based on the expectation that engineers can be trusted. It seeks to position the engineering community as one that possesses the respect and confidence of the public. People should feel confident that the word of an engineer is a reliable one, and that decisions taken by engineers are fair and without compromise or conflict.
Respect for life, law, the environment and public good demands that engineers are law-abiding and have the public's best interests at heart. This allows people to feel safe when they drive over bridges, fly in aircrafts, and use electrical equipment. It reassures them that engineering designs have been tested, are legally compliant, and that the engineer puts, above all else, the wellbeing of the public, future generations, other members of the profession, and the environment in which we live. This principle also covers the protection of data and privacy of the public.
Accuracy and rigour ensures that engineers are trained, competent and knowledgeable, and that they do not pass themselves off as experts in areas where they are not competent. It requires that engineers keep their knowledge up-to-date, and share their knowledge and understanding with others in their profession. It calls for engineers to take a broad approach to problem-solving, considering a variety of external factors which may influence the risks of any project.
And finally, the principle of leadership and communication ensures that engineers lead by example, that diversity and inclusion are valued, and that people are treated fairly and with respect. It is concerned with the impact of engineering on society in the broadest sense – with how the public sees engineering and how engineering addresses public, social and environmental justice concerns. It requires engineers to be considerate and truthful when acting in a professional capacity, and to raise concerns where necessary.
These four principles underpin professional codes of conduct for engineers, and they provide guidance on how ethical decisions should be made, giving a set of values against which engineers can behave.
Using the principles to unpick right from wrong and make the best decision:
While these principles can form a useful basis for ethical decision-making within engineering, it is often the case that conflicts arise that prevent the decision pathway from being straightforward, when there is no obvious right or wrong answer. There may be other principles that need to be considered, relating to the organisation or the institution that the engineer is working for. Furthermore, there may be other considerations associated with a person's religion, culture or belief system. We shouldn't forget that other constraints such as cost and time will also impact on the possible options available.
So, decision-making in engineering is rarely straightforward. It is not like a mathematical equation with right and wrong answers, but rather with degrees of rightness, balances of pros and cons and, often, with some costs incurred for the sake of a greater good. Various tools and frameworks exist to help the decision-maker with ethical problems. Probably the simplest logical method considers each of the possible solutions against the ethical principles that are to be complied with. These can then be considered in relation to the stakeholders affected, and a list of pros and cons can be developed. They can even be scored and weighted.
What if a decision is required quickly? How do we ensure that we are likely to make the best one? These questions are partly due to the values that we subscribe to as engineers, and as individuals. They become embedded in our subconsciousness through our training and practice. When decisions need to be made in a hurry, we rely on heuristics, or simple rules or instincts that feel consistent with the ethical knowledge and expertise that we have built up during our career. These heuristics, however, are subject to cognitive biases – psychological patterns of thought that divert us from purely rational approaches. Being aware of these biases can help to minimise or compensate for them.
Conclusion:
Engineers should utilise the Statement of Ethical Principles and knowledge of the specific context they are working in, to make the best decisions on the situation or dilemmas at hand. Ultimately, decisions that we make as a professional engineer are our individual responsibility, and whatever decision results, we should be prepared to justify and stand by them, knowing that we have taken these in good faith and for the right reasons. Ethical decision-making can be practised throughout an engineer's education by using a variety of case studies to explore a range of scenarios an engineer could face. The Royal Academy of Engineering and Engineering Professors' Council's Engineering ethics case studies can be used for this.
Additional resources:
This work is licensed under a Creative Commons Attribution-ShareAlike 4.0 International License.