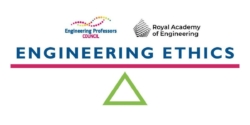 In developing the case studies and guidance articles for the EPC's Engineering Ethics toolkit, the authors and advisory group took into account recent scholarship on best practices in teaching engineering ethics through case studies – examples of this can be found here. They also reviewed existing case study libraries in order to add to the growing body of material available on engineering ethics; examples of these can be found below:
Murdough Center for Engineering Professionalism, Texas Tech University
Previously published cases of the Applied Ethics in Professional Practice Program (formerly known as the AEPP Case of the Month Club)
Many of the cases are based on real world situations and experiences of a consulting engineer. Ideas for other cases came from the program's Board of Review, consisting of practicing engineers and throughout the US.
Examples include: The Leaning Tower: A Timely Dilemma; To Flush or Not to Flush: That's the Question; and The Plagiarized Proposal.
Online Ethics Center for Engineering and Science
Explore a variety of case studies and scenarios including: A Client Opts for a Less Secure System; Air Bags, Safety, and Social Experiments; and Anhydrous Ammonia Hose Failure.
National Society of Professional Engineers Board of Ethical Review
All published opinions of the NSPE Board of Ethical Review. Cases are filterable e.g. by keyword and/or subject, and each case is broken down into several sections: Facts; Questions; NSPE code of ethics references; Discussion; and Conclusions.
Case examples include: Public Health, Safety, and Welfare—Drinking Water Quality; and Misrepresentation—Claiming Credit for Work of Former Employer.
Markkula Center for Applied Ethics, Santa Clara University
This series of engineering ethics case studies were created after interviews of numerous engineers, with the cases anonymised and written in a way that highlights the ethical content from each interview. These cases are primarily targeted at engineering students and professionals for their continuing professional development.
The case studies can be sorted into categories including; Academic ethics, Bioengineering, Electrical engineering and Science/research ethics and so on.
Case examples include: To Ship or Not to Ship; Disclosure Dilemma; Unintended Effects; and Is the Customer Always Right?
Ethics 4TU Centre for Ethics and Technology
Cases devised by researchers aiming to advance understanding of ethical issues in engineering and technology, in addition to material supporting their use e.g. a glossary of ethical concepts.
These cases are exercises for teaching ethics in engineering studies, especially at Bachelor's and Master's levels.
Engineering Professors' Council
These case studies were created in partnership with the Royal Academy of Engineering.