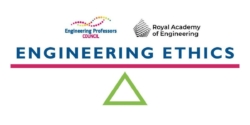 Author: Dr Irene Josa (University College London). The author would like to acknowledge Colin Church (IOM3) who provided valuable feedback during the development of this case.
Topic: Materials sourcing and circularity.
Engineering disciplines: Materials engineering; Manufacturing; Environmental engineering; Construction.
Ethical issues: Respect for the environment; Risk.
Professional situations: Conflicts of interest; Public health and safety; Legal implications; Whistleblowing; Power; Corporate social responsibility.
Educational level: Intermediate.
Educational aim: Gaining ethical knowledge. Knowing the sets of rules, theories, concepts, frameworks, and statements of duty, rights, or obligations that inform ethical attitudes, behaviours, and practices.
Learning and teaching notes:
This case involves an engineer responsible for verifying the source of recycled construction material to ensure it is not contaminated. The case is presented in three parts. Part one focuses on the environmental, professional, and social contexts and may be used in isolation to allow students to explore both micro-ethical and macro-ethical concerns. Parts two and three bring in a dilemma about public information and communication and allows students to consider their positions and potential responses. The case allows teachers the option to stop at multiple points for questions and / or activities as desired.
This case study addresses two of AHEP 4's themes: The Engineer and Society (acknowledging that engineering activity can have a significant societal impact) and Engineering Practice (the practical application of engineering concepts, tools and professional skills). To map this case study to AHEP outcomes specific to a programme under these themes, access AHEP 4 here and navigate to pages 30-31 and 35-37.
Learners have the opportunity to:
identify legal, professional, and ethical rules and guidance;
investigate technical and environmental components of circularity;
consider professional roles and associated responsibilities;
practice preparing for a public interview.
Teachers have the opportunity to:
introduce or provide practice in Life Cycle Assessment;
highlight relevant ethical codes and quality standards;
address approaches to professional and/or interpersonal conflict;
informally evaluate critical thinking and analysis.
Learning and teaching resources:
NGOs:
Government site:
Business:
Journal articles:
Professional organisations:
Dilemma – Part one:
Charlie is a junior environmental engineer who started working at Circle Mat after graduating. Circle Mat is a construction products company that takes pride in using recycled materials from waste in their products, such as mortars and concretes. In fact, Circle Mat was recently nominated by the National Sustainability Association in the prize for the most innovative and sustainable production chains.
Charlie's role is to ensure that the quality standards of the recycled waste used in the products are met. She is sent a report every two weeks from the factories receiving the waste and she checks the properties of this waste. While she is also supposed to visit all the factories once a month, her direct supervisor, Sam, advised her to visit only those factories where data shows that there are problems with the quality. While it is Charlie's responsibility to verify the quality and to create the factory visit plan, she trusts her line manager as to how best approach her work.
Among all the factories with which they are working, the factory in Barretton has always had the highest quality standards, and since it is very far from where Charlie is based, she has postponed for months her visit to that factory.
Optional STOP for questions and activities:
1. Discussion: Charlie is responsible for checking the quality from the data she receives, but what about the quality/reliability of the data? Where does her responsibility begin and end? What ethical guidance, codes, or frameworks can help her decide?
2. Activity: Research the issue of asbestos, including current science, potential risks, and legal implications.
3. Discussion: Macroethical context – What is circularity, and how does it relate to climate goals or environmental practice?
Dilemma: Part two:
After several months, she finally goes to the town where the factory is located. Before getting to the factory, she stops for a coffee at the town's café. There, she enquires of the waiter about the impacts of the factory on the town. The waiter expresses his satisfaction and explains that since Circle Mat started operations there, the town has become much more prosperous.
When Charlie reaches the factory, she notices a pile of waste that, she assumes, is the one that is being used as recycled aggregate in concrete. Having a closer look, she sees that it is waste from demolition of a building, with some insulation walls, concrete slabs and old pipes. At that moment, the head of the factory arrives and kindly shows Charlie around.
At the end of the visit, Charlie asks about the pile, and the head says that it is indeed demolition waste from an old industrial building. By the description, Charlie remembers that there are some buildings in the region that still contain asbestos, so asks whether the demolition material could potentially have asbestos. To Charlie's surprise, the head reacts aggressively and says that the visit is over.
Optional STOP for questions and activities:
1. Activity: Use an environmental and social Life Cycle Assessment tool to assess the environmental and social impacts that the decision that Charlie makes might have.
2. Discussion: Map possible courses of action regarding the approach that Charlie could adopt when the factory head tries to shut down the visit. Discuss which is the best approach and why. Some starting questions would be: What should Charlie do? What feels wrong about this situation?
3. Discussion: if she reports her suspicions to her manager, what data or evidence can she present? Should she say anything at all at this point?
Dilemma – Part three:
In the end, Charlie decides not to mention anything, and after writing her report she leaves Barretton. A few days later, Circle Mat is announced to be the winner of the prize by the National Sustainability Association. Circle Mat organises a celebration event to be carried out in Barretton. During the event, Charlie discovers that Circle Mat's CEO is a relative of the mayor of Barretton.
She is not sure if there really is asbestos in the waste, and also she does not know if other factories might be behaving in the same way. Nonetheless, other junior engineers are responsible for the other factories, so she doesn't have access to the information.
Some days after the event, she receives a call from a journalist who says that they have discovered that the company is using waste from buildings that contain asbestos. The journalist is preparing an article to uncover the secret and wants to interview her. They ensure that, if she wants, her identity will be kept anonymous. They also mention that, if she refuses to participate, they will collect information from other sources in the company.
Optional STOP for questions and activities:
1. Activity: Technical integration related to measuring contaminants in waste products used for construction materials.
2. Discussion: What ethical issues can be identified in this scenario? Check how ethical principles of the construction sector inform the ethical issues that may be present, and the solutions that might be possible.
3. Discussion: What interpersonal and workplace dynamics might affect the approach taken to resolve this situation? 
4. Discussion: Would you and could you take the interview with the journalist? Should Charlie? Why or why not?
5. Activity: In the case of deciding to take the interview, prepare the notes you would take to the interview.
This work is licensed under a Creative Commons Attribution-ShareAlike 4.0 International License.