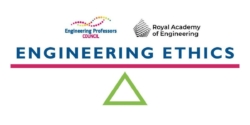 Authors: Paola Seminara (Edinburgh Napier University); Alasdair Reid (Edinburgh Napier University).
Topic: Sustainable materials  in construction.
Engineering disciplines: Civil engineering; Manufacturing; Construction.
Ethical issues: Sustainability; Respect for the environment; Future generations; Societal impact; Corporate Social Responsibility.
Professional situations: EDI; Communication; Conflicts with leadership/management; Quality of work; Personal/professional reputation.
Educational level: Intermediate.
Educational aim: Practising Ethical Analysis: engaging in a process by which ethical issues are defined, affected parties and consequences are identified, so that relevant moral principles can be applied to a situation in order to determine possible courses of action.
Learning and teaching notes:
This case involves an early-career consultant engineer working in the area of sustainable construction. She must negotiate between the values that she, her employer, and her client hold in order to balance sustainability goals and profit. The summary involves analysis of personal values and technical issues, and parts one and two bring in further complications that require the engineer to decide how much to compromise her own values.
This case study addresses two of AHEP 4's themes: The Engineer and Society (acknowledging that engineering activity can have a significant societal impact) and Engineering Practice (the practical application of engineering concepts, tools and professional skills). To map this case study to AHEP outcomes specific to a programme under these themes, access AHEP 4 here and navigate to pages 30-31 and 35-37.
The dilemma in this case is presented in two parts. If desired, a teacher can use the Summary and Part one in isolation, but Part two develops and complicates the concepts presented in the Summary and Part one to provide for additional learning. The case allows teachers the option to stop at multiple points for questions and / or activities as desired.
Learners have the opportunity to:
analyse the values that underlie professional and ethical stances;
gain knowledge about mass timber construction and its connection to sustainability goals;
articulate their own position about what they would do in a similar situation;
explore life cycle and Corporate Social Responsibility issues related to construction;
practise different types of professional communication.
Teachers have the opportunity to:
introduce technical content related to structural analysis and/or timber construction;
introduce or reinforce content related to leadership and global responsibility in engineering;
informally evaluate critical thinking and communication skills.
Learning and teaching resources:
News articles:
Business:
Journal articles:
Educational institutions:
Citizen engagement organisation:
Professional organisation:
NGOs:
Suggested pre-reading:
Learners and teachers might benefit from pre-reading the above resources about EDI and enacting global responsibility, as well as introductory material on construction with mass timber such as information from Transforming Timber or the "How to Build a Wood Skyscraper" video.
Summary:
Originally from rural Pakistan, Anika is a construction engineer who has recently finished her postgraduate degree, having been awarded a fully funded scholarship. During her studies, Anika was introduced to innovative projects using mass timber and off-site methods of construction. After completing her studies, she was inspired to start her own consultancy practice in the UK, aiming to promote the use of sustainable materials within the construction industry.
James is the director of a well-established, family-owned architectural firm, originally started by his great-grandfather who was also a prominent societal figure. In the last year, James and his colleagues have sought to develop a sustainability policy for the firm. A key feature of this new policy is a commitment to adopt innovative, sustainable construction solutions wherever possible. James has been contacted by an important client who wants to commission his firm to work on a new residential development.
James first met Anika at university when they were both studying for the same postgraduate degree. Having a high regard for Anika's capability and professionalism, James contacts Anika to propose working together to develop a proposal for the new residential development.
James hopes that Anika's involvement will persuade the client to select construction solutions that are aligned with the new sustainability policy adopted by his firm. However, the important client has a reputation for prioritising profit over quality, and openly admits to being sceptical about environmental issues.
Anika schedules a meeting with the client to introduce herself and discuss some initial ideas for the project.
Optional STOP for questions and activities:
1. Discussion: Personal values – What are the different personal values for Anika, James, and the client? How might they conflict with each other?
2. Activity: Professional communication – Elevator pitch activity part 1 – Working in groups of 2-3 and looking at the three different stakeholders' personal values, each group will create a persuasive pitch of 1 minute used by Anika to convince the client to focus on sustainability.
3. Activity: Technical Analysis – Assemble a bibliography of relevant projects using mass timber and off-site methods of construction, and identify the weaknesses and strengths of these projects in terms of sustainability and long- and short-term costs and benefits.
4. Activity:  Professional communication – Elevator pitch activity part 2 – After conducting your technical analysis, work in groups of 2-3 to revise your elevator pitch and role play the meeting with the client. How should Anika approach the meeting?
Dilemma – Part one:
After the first meeting, the client expresses major concerns about Anika's vision. Firstly, the client states that the initial costings are too high, resulting in a reduced profit margin for the development. Secondly, the client has serious misgivings about the use of mass timber, citing concerns about fire safety and the durability of the material.
Anika is disheartened at the client's stance, and is also frustrated by James, who has a tendency to contradict and interrupt her during meetings with the client. Anika is also aware that James has met with the client on various occasions without extending the invitation to her, most notably a drinks and dinner reception at a luxury hotel. However, despite her misgivings, Anika knows that being involved in this project will secure the future of her own fledgling consulting company in the short term – and therefore, reluctantly, suspects she will have to make compromises.
Optional STOP for questions and activities:
1. Discussion: Leadership and Communication – Which global responsibilities does Anika face as an engineer? Are those personal or professional responsibilities, or both? How should Anika balance her ethical duties, both personal and professional, and at the same time reach a decision with the client?
2. Activity: Research – Assemble a bibliography of relevant projects where mass timber has been used. How might you design a study to evaluate its structural and environmental credentials? What additional research needs to be conducted in order for more acceptance of this construction method?
3. Activity: Wider impact – Looking at Anika's idea of using mass timber and off-site methods of construction, students will work in groups of 3-4 to identify the values categories of the following capital models: Natural, Social, Human, Manufactured and Financial.
4. Activity: Equality, Diversity, and Inclusion – Map and analyse qualities and abilities in connection with women and how these can have a positive and negative impact in the construction industry.
5. Discussion: Leadership and Communication – Which are the competitive advantages of women leading sustainable businesses and organisations? Which coping strategy should Anika use for her working relationship with James?
Dilemma – Part two:
Despite some initial misgivings, the client has commissioned James and Anika to work on the new residential development. Anika has begun researching where to locally source mass timber products. During her research, Anika discovers a new off-site construction company that uses homegrown mass timber. Anika is excited by this discovery as most timber products are imported from abroad, meaning the environmental impact can be mitigated.
Optional STOP for questions and activities:
1. Activity: Environmental footprint – Research the Environmental Product Declaration of different construction materials and whole life carbon assessment.
2. Discussion: Is transportation the only benefit of using local resources? Which other values (Natural, Social, Human, Manufactured and Financial) can be maximised with the use of local resources? How should these values be weighted?
3. Discussion: Professional responsibility – How important is Corporate Social Responsibility (CSR) in Construction? How could the use of local biogenic materials and off-site methods of construction be incorporated into a strategic CSR business plan?
This work is licensed under a Creative Commons Attribution-ShareAlike 4.0 International License.