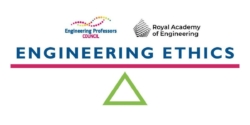 Authors: Cortney Holles (Colorado School of Mines); Ekaterina Rzyankina (University of Cape Town).
Topic: Critical digital literacy.
Engineering disciplines: Computer Science; Information Systems; Biomedical engineering.
Ethical issues: Cultural context; Social responsibility; Privacy.
Professional situations: Public health and safety; Working in area of competence; Informed consent.
Educational level: Intermediate.
Educational aim: Engaging in ethical judgement: reaching moral decisions and providing the rationale for those decisions.
Learning and teaching notes:
The case involves an engineering student whose personal choices may affect her future professional experience. It highlights both micro- and macro-ethical issues, dealing with the ways that individual actions and decisions can scale to create systemic challenges.
An ethical and responsible engineer should know how to work with and use digital information responsibly. Not all materials available online are free to use or disperse. To be digitally literate, a person must know how to access, evaluate, utilise, manage, analyse, create, and interact using digital resources (Martin, 2008). It is important to guide engineering students in understanding the media landscape and the influence of misleading information on our learning, our political choices, and our careers. A large part of critical digital literacy is evaluating information found on the web. For students working on a research project or an experiment, accessing accurate information is imperative. This case study offers several approaches to engaging students in the critique and improvement of their critical digital literacy skills. The foundations of this lesson can be applied in multiple settings and can be expanded to cover several class periods or simplified to be inserted into a single class.
This case study addresses two of AHEP 4's themes: The Engineer and Society (acknowledging that engineering activity can have a significant societal impact) and Engineering Practice (the practical application of engineering concepts, tools and professional skills). To map this case study to AHEP outcomes specific to a programme under these themes, access AHEP 4 here and navigate to pages 30-31 and 35-37.
The dilemma in this case is presented in two parts. If desired, a teacher can use the Summary and Part one in isolation, but Part two develops and complicates the concepts presented in the Summary and Part one to provide for additional learning. The case allows teachers the option to stop at multiple points for questions and / or activities as desired.
Learners have the opportunity to:
explore how personal privacy has become increasingly more vulnerable to surveillance and commodification;
discover ways that uploading personal information to social networks means that we will increasingly allow others access to our data;
understand how vulnerable personal information has become to information-aggregation and reselling activities;
evaluate messaging on social media and the news to critique the information they take in and the entities that post it.
Teachers have the opportunity to:
address the definition and importance of expertise;
provide students with practice in evaluating sources of information;
critique students' approaches to searching, sharing, and comprehending information;
evaluate how students respond to and engage with messaging about science and engineering.
Learning and teaching resources:
News articles:
Educational institutions:
Legal regulations:
Non-profit organisations:
Business:
Summary:
Katherine is a biomedical engineering student in her 3rd year in 2022, and will have a placement in a community hospital during her last term at university. She plans to pursue a career in public health after seeing what her country went through during the Covid-19 pandemic. She wants to contribute to the systems that can prevent and track public health risks from growing too large to manage, as happened with Covid-19. She is motivated by improving systems of research and treatment for emerging diseases and knows that communication between a variety of stakeholders is of the utmost importance.
Optional STOP for questions and activities:
1. Discussion: What can you determine about Katherine's values and motivation for her studies and her choice of career?
2. Discussion: How do you connect with her mission to improve diagnostic and treatment systems for public health threats?
3. Discussion: Who should be responsible for the messaging and processes for public health decisions? How are engineers connected to this system?
4. Activity: Research the Covid-19 vaccine rollout in the United Kingdom versus other countries – how did power, privilege, and politics influence the response?
5. Activity: Research current public health concerns and how they are being communicated to the public. In what ways might engineers affect how and what is communicated?
Dilemma – Part one:
As Katherine approaches the winter holiday season, she makes plans to visit her grandmother across the country. She hasn't seen her since before the Covid-19 pandemic and is excited to be around her extended family for the holidays once again. However, she receives an email from her cousin informing everyone that he and his family are not vaccinated against Covid-19 because the whole vaccination operation was forced upon citizens and they refused to participate. Katherine is immediately worried for her grandmother – at 85 years old, she is at a higher risk than most – and for her brother, who suffers from Addison's disease, an autoimmune disorder. Additionally, if Katherine comes into contact with Covid-19 while celebrating the holidays with her family, she could suffer repercussions at both her university and the hospital where she will work for her placement.
Optional STOP for questions and activities:
1. Discussion: How can Katherine communicate with her cousin about her concerns for her brother and grandmother? How might she use her expertise as a biomedical engineer in this conversation?
2. Discussion: What kind of information will be most convincing to support her decision? What sources would provide the evidence she is looking for, and which ones would provide counter arguments?
3. Discussion: What impacts might the decision have on Katherine's position as a student or in the hospital?
4. Discussion: Do engineers, scientists, and medical professionals have more of an obligation to promote and adhere to public health guidance? Why or why not?
5. Activity: Talk to people in your life about their experience of navigating the Covid-19 vaccine. Did they choose to get it as soon as it was available? Did they avoid getting the vaccine for particular reasons? Were there impacts on their personal relationships or work because of their choices about the vaccine?
6. Activity: Research some of the impacts on individuals with health concerns and comorbidities in regard to Covid-19 and other viruses or public health concerns. How do these experiences match with or differ from your own?
7. Activity: Investigate the different ways that engineers were involved in vaccination development and response.    
Dilemma – Part two:
Katherine went back to university after a lengthy break for the holidays and immediately registered for an account on Facebook as a brand-new user. She was in such a hurry to have her profile up that she did not take the time to configure any privacy settings. She stayed up late reading an article about Covid-19  that had been posted on the website of one of the online newspapers. Before she posted this report on her own Facebook page, she did not verify the accuracy of the information or the source of the information.
Optional STOP for questions and activities:
1. Discussion: What kind of impact might this social media activity have on Katherine's position as a student or in the company/organisation/hospital she is working for as an intern? What should Katherine be worried or concerned about after posting information?
2. Discussion: Do social media companies collect or ask for any other non-essential information from you? Why does the website claim that they are collecting or asking for your information? Does the website share/sell/trade the information that they collect from you? With whom does the website share your collected information? How long does the website keep your collected information? Does the website delete your information, or simply de-personalise it?
3. Discussion: Regarding question 2, how are engineers involved with products, processes, or services that enable those choices and actions?
4. Discussion: What is real and fake news? How do you know? What do you look for to know if it is real or fake news (share guidelines)? Do you expect it to be easy to spot fake news? Why should we care if people distribute and believe fake news?
Students are particularly susceptible to being duped by propaganda, misleading information, and fake news due to the significant role that information and communication technology which is problematic to verify plays in their everyday life. Students devote a significant portion of their time to participating in various forms of online activity, including watching television, playing online games, chatting, blogging, listening to music, posting photos of themselves on social networking sites, and searching for other individuals with whom they can engage in online conversation. Students owe a significant portion of what they know about the world and how they perceive reality to the content that they read online. While many people share reliable and positive information online, others may engage in negative impact information sharing:
Mis-information – false information shared with no intention of causing harm
Dis-information – false information shared intentionally to cause harm
Mal-information – true information shared intentionally to cause harm.
5. Discussion: What are some other examples of how engineering might fall prey to negative impact information sharing?
6. Discussion: How might engineers help address the problem of fake news and negative impact information sharing?
References:
Martin, A. (2008). 'Digital Literacy and the "Digital Society"', in Lankshear C. and Knobel M. (eds.), Digital Literacies: Concepts, Policies, and Practices. New York: Peter Lang,  (pp. 151-176).
This work is licensed under a Creative Commons Attribution-ShareAlike 4.0 International License.