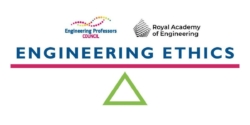 Author: Onyekachi Nwafor (KatexPower).
Topic: A country-wide energy transition plan.
Engineering disciplines: Energy; Electrical.
Ethical issues:  Sustainability; Social responsibility; Risk.
Professional situations: Public health and safety,
Educational level: Beginner.
Educational aim: Engaging in Ethical Judgement: reaching moral decisions and providing the rationale for those decisions.
Learning and teaching notes:
At COP26, H.E. President Muhammadu Buhari announced Nigeria's commitment to carbon neutrality by 2050. This case involves an engineer who is one of the stakeholders invited by the president of Nigeria to implement an Energy Transition Plan (ETP). It requires the engineer, who is a professional and well experienced in renewable energy and energy transition, to deliver a comprehensive decarbonisation roadmap that will ensure net zero emissions.
This case study addresses two of AHEP 4's themes: The Engineer and Society (acknowledging that engineering activity can have a significant societal impact) and Engineering Practice (the practical application of engineering concepts, tools and professional skills). To map this case study to AHEP outcomes specific to a programme under these themes, access AHEP 4 here and navigate to pages 30-31 and 35-37.
The dilemma in this case is presented in two parts. If desired, a teacher can use Part one in isolation, but Part two develops and complicates the concepts presented in Part one to provide for additional learning. The case allows teachers the option to stop at multiple points for questions and / or activities, as desired.
Learners have the opportunity to:
research various aspects of decarbonisation and the energy transition;
consider short- and long-term components of ethical decision-making;
practice negotiating between stakeholders;
develop and present an energy transition plan.
Teachers have the opportunity to:
introduce or expand on technical content related to decarbonisation;
introduce or reinforce bibliographic research skills;
informally evaluate critical thinking and argumentation.
Learning and teaching resources:
UK website:
Think tank:
Nigeria government site:
Industry publication:
Business:
Dilemma – Part one:
You are an electrical engineer working as a technical consultant in an international organisation aiming to  transform the global energy system to secure a clean, prosperous, zero-carbon future for all. The organisation is one of the stakeholders invited by the federal government of Nigeria to implement the country's new Energy Transition Plan (ETP) and you are given the task of creating a comprehensive decarbonisation roadmap and presenting it at the stakeholder meeting.
Optional STOP for questions and activities:
1. Discussion: In what ways could an electrical engineer bring needed expertise to the ETP? Why are engineers essential to ensuring a zero-carbon future? Should engineers be involved in policy planning? Why or why not?
2. Activity: Wider context research: Nigeria is currently an oil-producing country. What might policy makers need to consider about this reality when implementing an ETP? How strongly should you advocate for a reduction of the use of fossil fuels in the energy mix?
3. Discussion and activity: List the potential benefits and risks to implementing the ETP. Are these benefits and risks the same no matter which country they are implemented in?
4. Activity: Research and outline countries that have attained a zero emission target. What are their energy distribution mixes? Based on this information, what approach should Nigeria take and why?
5. Activity: What will be your presentation strategy at the stakeholder meeting? What will you advocate for and why? What ethical justifications can you make for the plan you propose?
Dilemma – Part two:
At the stakeholder meeting, you were given the opportunity to present your decarbonisation roadmap and afterwards faced serious opposition by the chief lobbyist of the Fossil Fuel and Mining Association, Mr. Abiola. Mr. Abiola is of the opinion that because Nigeria contributes less than 1% to the global emissions, it should not be held accountable for climate change, and therefore no country-wide climate policy is necessary. Furthermore, he fears the domestic market for coal that is used to produce electricity as well as the global market for fossil fuels will shrink because of the new policy. He also argues that a shift away from coal and fossil fuels could result in challenges to the security of supply, since renewables are by definition unreliable and volatile. Other stakeholders, such as activists and environmental experts, also voiced different concerns and opinions. They argue that time has already run out, and no country can delay decarbonisation plans no matter how small their impact on the global total. This conflict has resulted in disagreements in the negotiation.
Optional STOP for questions and activities:
1. Debate: Do different countries have different ethical responsibilities when it comes to decarbonisation? Why or why not? If so, for what reasons?
2. Discussion: How should countries weigh the short-term versus long-term benefits and burdens of the energy transition? What role do governments and corporations play in managing those? What role should citizens play?
3. Discussion: How will you prepare for and handle opposing questions to your roadmap plan? 
4. Activity: Create a participatory stakeholder engagement plan embedded in the overall decarbonisation strategy.
5. Activity: How will you utilise the different renewable energy mix to provide 100% access to electricity and ensure security of supply as an electrical engineer?
This work is licensed under a Creative Commons Attribution-ShareAlike 4.0 International License.