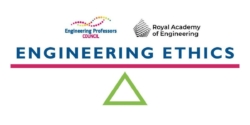 Authors: Mr Neil Rogers (Independent Scholar); Sarah Jayne Hitt, Ph.D. SFHEA (NMITE, Edinburgh Napier University).
Topic: Suitable technology for developing countries. 
Engineering disciplines: Mechanical engineering; Electrical engineering; Energy. 
Ethical issues: Sustainability; Honesty; Integrity; Public good. 
Professional situations: Communication; Bribery; Working cultures; Honesty; Transparency. 
Educational level: Advanced. 
Educational aim: Practicing Ethical Reasoning: the application of critical analysis to specific events in order to evaluate and respond to problems in a fair and responsible way. 
Learning and teaching notes: 
This case study requires a newly appointed engineer to make a decision about whether or not to sell unsuitable equipment to a developing country. Situated in Ghana, the engineer must weigh perspectives on environmental ethics that may differ from those informed by a different cultural background, as well as navigate unfamiliar workplace expectations. 
The engineer's own job security is also at stake, which may complicate decision-making. As a result, this case has several layers of relations and potential value-conflicts. These include values that underlie assumptions held about honesty, integrity, the environment and its connection to human life and services. 
This case study addresses two of the themes from the Accreditation of Higher Education Programmes fourth edition (AHEP4): The Engineer and Society (acknowledging that engineering activity can have a significant societal impact) and Engineering Practice (the practical application of engineering concepts, tools and professional skills). To map this case study to AHEP outcomes specific to a programme under these themes, access AHEP 4 here and navigate to pages 30-31 and 35-37. 
This case study is presented in two parts. If desired, a teacher can use Part one in isolation, but Part two develops and complicates the concepts presented in Part one to provide for additional learning. The case study allows teachers the option to stop at multiple points for questions and/or activities as desired.  
Learners have the opportunity to: 
analyse value assumptions related to environmental ethics;

 

consider whether decisions made by an engineer are ethically acceptable or unacceptable;

 

undertake cost-benefit and value trade-off analysis in the context of an ethical dilemma;

 

practise argument and reasoning related to an ethical dilemma;

 

use heuristics to help ethical decision-making.

 
Teachers have the opportunity to: 
introduce concepts related to values in environmental ethics;

 

informally evaluate students' argument and reasoning skills;

 

integrate technical content in the areas of electrical or mechanical engineering related to remote water supplies;

 

highlight heuristics as tools for ethical decision-making;

 

address cultural and professional norms in different countries.

 
Learning and teaching resources: 
Educational institutions: 
Journal articles: 
Professional organisations: 
News articles: 
NGOs: 
Pre-reading: 
To prepare for activities related to environmental ethics, teachers may want to read, or assign students to pre-read, the academic articles found in the resource list: 'Environmental ethics: An overview' or 'Mean or Green: Which values can promote stable pro-environmental behaviour?' 
Dilemma – Part one: 
You have just graduated from university as a mechanical engineer and you are starting your first job as a sales engineer for JCD Engineering, a company that designs and manufactures pumping equipment. JCD has recently expanded operations in sub-Saharan Africa and you took the job because you were excited for the opportunity to travel and work in a country and culture different from your own.  
For your first project, you have been asked to put together quite a large bid for a water pumping aid project for some farms in northern Ghana. It just so happens that there is a trade show being held in Accra, so your manager has suggested you attend the show with a colleague to help on the company stand and combine this with a site visit to where the pumping equipment is to be installed. A representative from the aid organisation agrees to drive you to where the project will be sited before the trade show takes place. 
On arrival in Ghana, you are met by the rep to take you on your journey up country. This is your first visit to a developing country; you are excited, a little apprehensive and quite surprised by disorganisation at the airport, poor infrastructure, and obvious poverty in the villages up country. Still, you immediately see the difference that water pump installation could make to improve quality of life in villages. After two days of travelling, you eventually arrive at the village where the project JCD is bidding on will be situated. You are surprised to hear that the aid rep is quite cynical about engineering aid projects from the UK; this is because many have failed and she hopes that this won't be another one. She is very busy and leaves you with local school teacher Amadou, who will host you during your stay and act as your interpreter. 
The local chief, farmers, and their families are very excited to see you and you are taken aback by the lavish food, dancing, and reception that they have laid on especially for you. You exchange social media contacts with Amadou, who you understand has been instrumental in winning this contract. You get excited about working with Amadou on this project and the prospect of improving the livelihoods of the locals with better access to clean water. 
After some hours you get shown some of the existing pumping equipment, but you don't recognise it and it has obviously been left idle for some time and looks to be in a poor state. The farmers appear confused and are surprised that you aren't familiar with the pumps. They explain that the equipment is from China and was working well for many years. They understand how it operates and have even managed to repair some of the fittings in local workshops, but there are now key parts they have been waiting many months for and they assume that you have brought them with you. 
You try to explain through Amadou that there has been some misunderstanding and that you don't have the spares but will be quoting for replacement equipment from your company in the UK. This is not what the farmers want to hear and the mood changes. They have spent many years getting to know this kit and now they can even locally fabricate some of the parts. Why would you change it all now? The farmers start shouting and Amadou takes you to one side and suggests you should respond by offering them something in return. 
What should you offer them? 
Optional STOP for questions and activities: 
1. Discussion: What is your initial reaction to the miscommunication? Does it surprise you? What might your initial reaction reveal to you about your own perspectives and values? 
2. Discussion: What is your initial reaction to the reception given to you? Does it surprise you? What might your initial reaction reveal to you about your own perspectives and values? 
3. Activity: Technical integration – undertake an electrical engineering technical activity related to water pumps and their power consumption against flow rates and heads. 
4. Discussion and activity: List the potential benefits and risks to implementing water pump technology compared to traditional methods of water collection. Are these benefits and risks the same no matter which country they are implemented in? 
5. Activity: Research water pumping in developing countries. What are the main technical and logistical issues with this technology? Are there any cultural issues to consider?  
6. Activity: This activity is related to optional pre-readings on environmental ethics. Consider how your perspective is related to the following environmental values, and pair/share or debate with a peer. 
Anthropocentrism versus Biocentrism: are humans above or a part of the environment?

 

Intrinsic versus Instrumental: is nature inherently valuable or only valuable because of the use humans can make of it?

 

Holism versus Individualism: are certain elements of the environment more valuable than others, or does every part of the ecosystem have equal value?

 

Egoism versus Altruism: do we care about the environment as a result of what we gain from it, or regardless of human benefits?

 

Obligations to future generations: do we have a responsibility to provide a safe and healthy environment for humans that don't yet exist, or for an ecosystem that will eventually change?

 
Dilemma – Part two: 
You reluctantly backtrack a little on what you said earlier and convince Amadou and the farmers that you will be able to sort something out. Back in Accra at the local trade show, you manage to source only a few spares as a quick fix since you had to pay for them yourself without your colleague noticing. The aid representative agrees to take them up country next time she travels. 
You arrive back in the UK and begin to prepare the JCD bid. You are aware that the equipment from your company is very different to the Chinese kit that the farmers already have. It is designed to run on a different voltage and uses different pipe gauges throughout for the actual water pumping. The locally fabricated spares will definitely not connect to the JCD components you will be specifying. 
You voice your concerns to your manager about the local situation but your manager insists that it is not your problem and the bid will not win if it is not competitive. Sales in your department are not good at the moment, and after all you are a new employee on probation and you want to make a good first impression. 
Having further investigated some comments Amadou made on the trip, you discover that the water table has dropped by several metres in this part of Ghana over the last five years and you realise that the equipment originally quoted for might not even be up to the job! 
Optional STOP for questions and activities: 
1. Discussion: Should you disclose these newly discovered concerns about the water table height or keep quiet? 
2. Discussion: Do you continue to submit the bid for equipment that you know may be totally inappropriate? Why, or why not? 
3. Activity: Role-play a conversation between the engineer and the JCD manager about the issues that have been discovered. 
4. Discussion and activity: Research levels of the water table in West Africa and how they have changed over the last 50 years. Is there a link here to climate change? What other factors may be involved? 
5. Discussion: Environmental ethics deals with assumptions that are often unstated, such as the obligation to future generations. Some people find that our obligation is greater to people who exist at this moment than to those that don't yet exist. Do you agree or disagree with this position? Why? Can we maintain an obligation to future generations while simultaneously saying that this must be weighed against the obligations in the here and now? 
6. Activity: Both cost-benefit and value trade-off analyses are valuable approaches to consider in this case. Determine the possible courses of action and undertake both types of analysis for each position by considering both short- and long-term consequences. (Use the Mapping actors and processes article to help with this activity.) 
7. Activity: Using reasoning and evidence, create arguments for choosing one of the possible courses of action. 
8. Activity: Use heuristics to analyse possible courses of action. One heuristic is the Environmental ethics decision making guide. Another is the 7-step guide to ethical decision-making. 
This work is licensed under a Creative Commons Attribution-ShareAlike 4.0 International License.