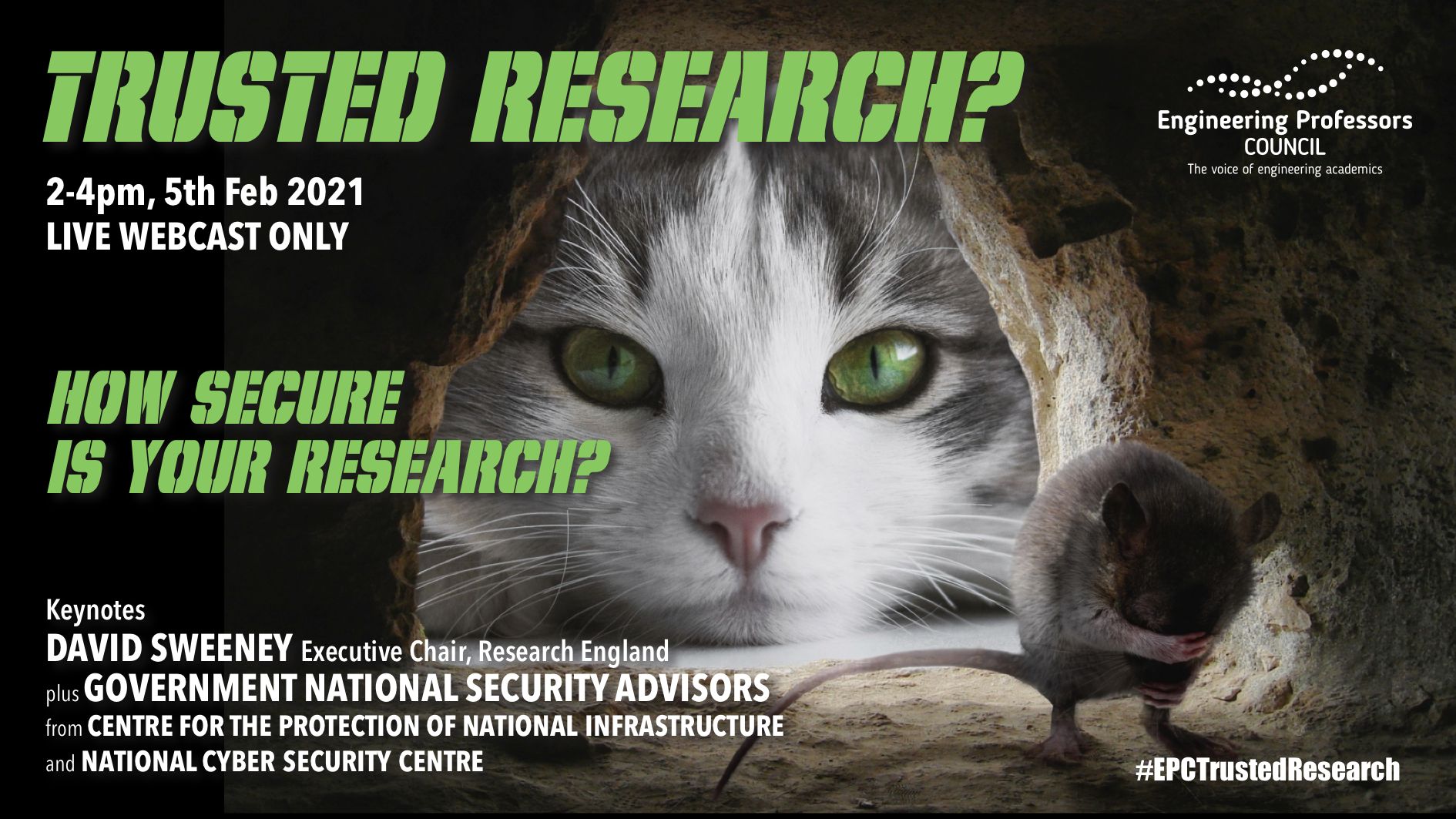 EPC live-only webcast: Trusted Research: how secure is your research?
free
A summary of this broadcast is now available!
This webcast, introduced by David Sweeney, Executive Chair of UKRI, will raise awareness of the risks to research collaborations which may occur when working with organisations or research partners with links to nations whose democratic and ethical values are different from our own. By raising awareness of security considerations and protecting I.P. we aim to help our members get the most out of international collaboration whilst protecting intellectual property, sensitive research and personal information.
Engineering underpins critical infrastructure and the development of sensitive technologies. The very design and construction and operation is these days likely to involve digital engineering, open data initiatives, advanced manufacturing processes, intelligent transport systems and smart city initiatives all of which can be done in a security-minded way. This session will show the range of malicious threats facing academia and the public and private sectors and the vulnerabilities that can be mitigated by forethought and proportionate countermeasures that enable rather than inhibit the desired innovation.
It will conclude with a briefing on Trusted Research which aims to secure the integrity of the system of international research collaboration, which is vital to the continued success of the UK's research and innovation sector.
The session will be introduced by David Sweeney, Executive Chair of UKRI, and Kelly Pullin, Head of Strategic Co-ordination at UKRI. With guest speakers from the Centre for the Protection of National Infrastructure (CPNI) – the UK Government's National Technical Authority for Physical and Personnel protective security advice – and the National Cyber Security Centre (NCSC) – the National Technical Authority for Cyber Security. Both are part of the National Security apparatus and provide advice (https://www.cpni.gov.uk/protection and https://www.ncsc.gov.uk/section/advice-guidance/all-topics) to academia and the public and private sectors.
This event will be useful for all academics and researchers in engineering higher education and related disciplines at all levels from early careers staff to those with managerial or strategic responsibilities at faculty level. It will also interest employers, students, professional bodies and anyone with an interest in enhancing the learning experiences of tomorrow's engineers.
This event will be free and is open exclusively to academic staff working in member institutions of the Engineering Professors' Council and selected guests. Registration is essential so that we can send you joining instructions.
This is a live event only and a full recording will not be available after the event.