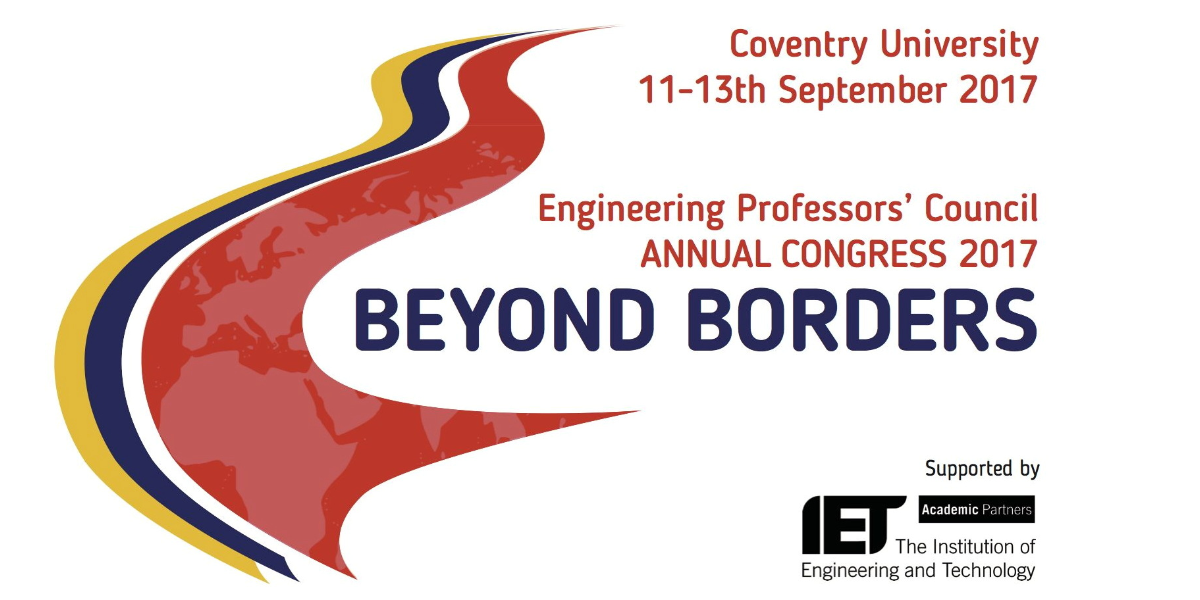 Engineering Professors' Council Annual Congress 2017
The Engineering Professors' Council Annual Congress 2017 took place at the University of Coventry on 11-13 September.
We are delighted that the IET Academic Partners generously supported the Congress. The theme for this year's Congress was 'Beyond Borders', exploring the many ways internationalisation requires universities and engineers to prepare themselves for a new world.
As the UK lurches towards Brexit and following the Government's announcement to harden further the line on international students, the issue could not have been more timely. On the one hand, finding a new place in the world will place new demands on attracting talented students and leading global innovation and research. But on the other, without international students and staff, even the viability of many engineering departments may be on the line.
Aside from hearing about contemporary topics through the hand-picked line up of  speakers and the Congress provided its usual array of excellent networking opportunities and a chance for us all to interact with our engineering academic peers across all career stages.
The EPC would like to acknowledge the kind support of The IET Academic Partnerships programme, the University of Coventry.
All the Congress slide presentations can be downloaded via the "Event presentations" tab.
You can also have a look on the tweets of the conference #epcccongress17 @EPC1994
Click here to see upcoming EPC events including the Recruitment & Admissions Forum 2017 on 15th November.
Please see below the detailed schedule for this event.
Coventry University / Stellenbosch University
---
Sahara Force India
---
Horiba-MIRA
---
UniversitiesUK International
---
HEFCE
---
Bournemouth University
---
Unipart Manufacturing Group
---
Royal Academy of Engineering
---
University of Nottingham
---
HEFCE
---
Engineering Professors Council
---
Williams Advanced
Tuesday 12th September
Following an opportunity for early registration and networking on Monday 11th, the Congress's proceedings began in earnest on Tuesday 12th September with a welcome from Prof Sarah Spurgeon, EPC President.
Prof John Latham (Vice-Chancellor and CEO, Coventry University and Extraordinary Professor, Stellenbosch University) presented The International Challenges Facing HEIs. Now the UK's second largest player in the international HE field, Coventry University has seen a radical transformation in the last ten years. He put students and staff at the forefront of future strategies.
Next we enjoyed a look at the next generation of engineers. A Journey From Engineering Lectures To The Face Of The Engineering For The BBC presented by Teena Gade (Vehicle Science Engineer, Sahara Force India) highlighted the importance of role models, regardless of gender. She was joined by Torin Spence (Skills Manager, Horiba-MIRA) who outlined  MIRA Technology Institute's The Reach Out Programme. Key messages included the need to re-establish the undergraduate qualification, with work experience, as the primary qualification; the need for UCAS to understand the patterns of postgraduate taught study; and for us all to understand students' expectations at PGT level.
Prof Michelle Morgan (Associate Dean and Associate Professor, Student Experience, Bournemouth University) discussed Postgraduate Employability: The Next Academic Frontier, including an extensive evidence base around postgraduate employment.
A panel discussion, featuring Steven Shelby (Purdue University), Dave Wright (Coventry University), Ian Wilson (Coventry University), and Mike Bromfield (Coventry University) followed, lending An Honest Reflection of International Relationships.
The afternoon provided more insights still from sector experts. First we saw Nicola Turner MBE (Head of Skills, HEFCE) pointed to the Wakeham Review, and turned the spotlight on STEM and digital skills in her presentation, Stemming The Tide: Is The Skills Gap Getting Bigger? 
The day ended with an inspiring pre-dinner talk: Engineering at 200mph, by Paul McNamara (Technical Director, Williams Advanced Engineering).
The Congress Dinner was held at Coventry's medieval St Mary's Guildhall where delegates dined in the atmospheric Undercroft with its magnificent vaulted roof.
Wednesday 13th September
Wednesday started with Carol Burke CBE FREng (Managing Director, Unipart Manufacturing Group) presenting a case study of Industrial Engineering On A Multinational Scale at Unipart Manufacturing Group.
This was followed by an inspiring talk from Dr Hayaatun Sillem FIET (Deputy CEO and Director of Strategy, Royal Academy of Engineering) entitled From Industrial Engineering to Academic Strategies. She focused on engineering an economy that works for all and introduced the 2018 Year of Engineering.   
Next, Dr Paul Greatrix (Registrar, University of Nottingham) explored Internationalisation: Many Facets, Many Challenges  through a tour of the University of Nottingham's own experiences.
The congress ended with a presentation from Kim Hackett (REF Manager, HEFCE) who invited us to take A Moment For REFlection. She shared with us the initial decisions on the Research Excellence Framework 2021, including the move to a single Engineering UOA.
Finally, delegates benefited from a range of tours including Coventry's famous Transport Museum.
This content is for registered users only. Please
login
.
Who should attend?
All academic staff in any engineering discipline – from early career staff through lecturers and researchers to department heads, deans of faculties, PVCs and VCs – anyone who wish to network with colleagues, develop their professional practice and stay on top of strategic and policy challenges.
The event is also open to non-academics working in engineering or in professional bodies, who have an interest in the graduate talent pipeline, in research and in innovation.
Please note: The EPC is dedicated to supporting early careers staff and, so, for the first time, we are offering 10 free full delegate places (with accommodation provided) to individuals who have been working in engineering in UK universities for less than five years.
Are you an early career staff? Why should you attend?
Aside from covering contemporary teaching and research topics through the hand-picked line up of speakers and the excellent networking opportunities this is a chance for you to directly interact with your engineering academic peers across all career stages. Each presentation/talk will be followed by discussion of the topics in smaller groups meaning that you will actively discuss the current topic with your peers from assistant lecturers and research assistants to fully fledged seasoned professors. We will capture the essence of the discussions using Word Clouds and Twitter to encourage the discussions to continue after the individual sessions end.