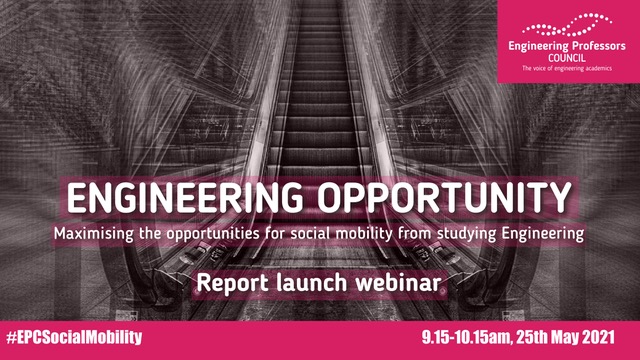 Engineering Opportunity: Maximising the opportunities for social mobility from studying Engineering
free
The Engineering Professors' Council is delighted to invite you to the online launch of Engineering Opportunity: Maximising the opportunities for social mobility from studying Engineering.
This major new study reveals evidence on the capacity of Engineering higher education to act as a social leveller for its disadvantaged students.
The event will be held on 25th May 2021 from 9:15-10:15am as a webinar on Zoom. The findings of the report will be summarised and there will be a panel of speakers, including students and experts from a range of backgrounds who will talk briefly about their experiences, before taking questions from attendees.
If you would like to receive a copy of the 'Engineering Opportunity' report and press release as soon as available but are not able to attend the event, please register your details here, and select the relevant option.
Confirmed Speakers for the Panel:
Steve Faulkner, Senior Lecturer, London South Bank University
Andreas Michael, Barr's Hill School, Director of Post 16
Hannah Petrie, Learning and Development Co-ordinator, James Walker & Co Ltd
Johnny Rich, Chief Executive, EPC, and co-author of the report
Lara Small, Graduate, now working for Rolls Royce
Prof Colin Turner, President, EPC
With an introduction from Johnny Rich, Chief Executive of the Engineering Professors' Council.
We look forward to welcoming you.