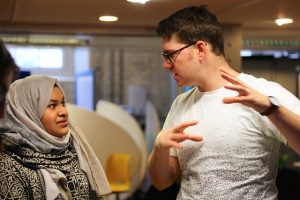 The Faculty of Engineering Sciences at University College London (UCL) is one of the EPC member organisations that has been working with Primary Engineer to run the Special Leaders Award programme.  It's the first time it's been run in London, bringing the world of research and work into the Capital's schools through STEM Ambassadors and chartered engineers. It forms part of a wider programme to change attitudes to STEM careers and degrees through inspiring children at an early age, transforming teaching of these subjects, and building relationships between schools, universities and industry. By engaging with children at an early age, the programme aims to introduce STEM subjects and engineering as attractive options to pursue, change misperceptions around engineering, while encouraging a more diverse group of future engineers, helping break down the gender, racial and socio-economic stereotypes that persist.
The London Special Leaders Award asks 5-19 year olds to respond to the question: "If you were an Engineer in London, what would you do?" Through the exploration of engineering achievements and cutting-edge research and interviews with engineers in academia and industry from a broad range of fields, pupils are enabled to let their imaginations run free to design inventions that could change London, or, perhaps transform the entire world. Pupils will find a real-world challenge and propose their solution, writing a "pitch" letter to support their entry together with supporting materials including technical drawings.
The London Special Leaders Award programme has already attracted more than 1500 pupils aged 5-19 years olds from London schools. This is a wonderful opportunity for pupils to engage with real engineers at different stages of their studies, research or profession in academia and industry. The passion and active engagement of UCL Engineering STEM Ambassadors, undergraduate and postgraduate students as well as academic and research staff, during assemblies, workshops and interview sessions brings the programme to life, they are the best ambassadors for engineering. In particular, student's act as role models to young people, inspiring them about STEM careers while highlighting the creative and humanitarian nature of engineering and its significance to society. Both UCL Engineering and Primary Engineer ensure that there is good gender and racial representation of students and staff engaging with pupils on the programme, sending a clear, consistent and strong message about the importance of a diverse talent pool that promotes creativity, ingenuity and innovative ideas. For students, supporting the programme helps them develop invaluable transferable skills and qualities, identifying effective ways of communicating their subject-specific knowledge in an accessible, straightforward and engaging manner to audiences of different ages and levels of prior understanding.
If you want to find out more about the London Special Leaders Award programme visit the following website: http://www.engineering.ucl.ac.uk/schools-engagement/event/london-special-leaders-award-2016/
If you want to find out more about Primary Engineer and its range of programmes visit the following website: http://www.primaryengineer.com
To find out about how you or your students can get involved email: info@primaryengineer.com
Dr. Elpida Makrygianni, UCL Engineering Education and Engagement