In May at the EPC Annual Congress 2018 at Harper Adams University, we announced the winner of this year's Hammermen Student Award, generously sponsored by the Hammermen of Glasgow in recognition of the outstanding achievement of an engineering student.
This year the award was given to Jonathon Glen of our hosts Harper Adams not only for his exceptional academic work, but also for his achievements as part the the Harper Adams community and his greater contribution to agricultural engineering.
By way of an example of just what an outstanding individual Jonathon is, we asked him what he would do with his prize money. The answer was that  he intended to drive to Mongolia to raise money in aid of mental health in farming.
We asked him to tell us more and this is what he wrote for us. Please follow this link to support him.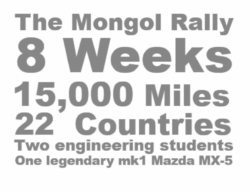 Nothing will quite synthesize four years of engineering learning at Harper Adams University quite like planning and executing a charity rally that will cover over 15,000 miles, through 22 countries, in less than 8 weeks.
This year Alan Walker and I are taking part in the Mongol Rally to raise money for the Kettering General Hospital Charity Fund and the Farming Community Network (FCN). However, we are taking this one step further. Mongolia is not finish line. Once we have driven through Europe, the Middle East, central Asia and the Pamir Highway to get to Mongolia, I am going to drive back again in our Mk1 Mazda MX-5.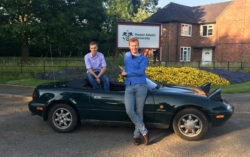 Planning something like this it may appear like a job for a travel agent, but the challenges we are facing require us to go back to first principles. What are we trying to achieve? What don't we know and how do we find out? What are the variables and how to we manage them? How are we going meet our deadlines? How do we manage the inherent risks?
I find myself asking all these questions but not for the first time. I believe that our ability to create this adventure has come from the fundamental skills learnt during our engineering degree.
This journey is more than a jolly halfway round the world. The charities that we are raising money for both resonate with us.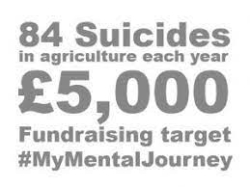 For Alan, it is a way to give back to the health trust that saved his grandmother's life. For me it's about trying to make a difference in the agricultural community.
Suicide in agriculture kills nearly three times more people than work place accidents. As well trying to raise £5,000 for the FCN who are a charity that support members of the agricultural community who are suffering from mental health issues, I am documenting my emotional and mental journey in #MyMentalJourney and sharing it with the world to highlight the importance of talking about one's own mental health. (See video here. and follow us on Twitter.)

I have been there, like so many others and so documenting a journey as mentally demanding as the Mongol Rally is the perfect platform to do this. All this will be wasted if we can't get the word out so please spread the word and we thank you for your support.