Professor John Perkins FREng is the Chief Scientific Adviser to the Department for Business, Innovation and Skills (BIS).  His Review of Engineering Skills was published in November, 2013.  The review endorses the widely accepted view that substantially increasing the supply of engineers entering the labour market would benefit the UK economy, enabling it to be more flexible and resilient, and allowing more people to take up the new opportunities that technological change presents.
The review includes 22 recommendations for action by government, industry, the engineering profession, and the education sector and challenged the engineering community to respond and find ways to implement the recommendations.
In early 2014, four Task and Finish Groups were established, charged with implementing those recommendations.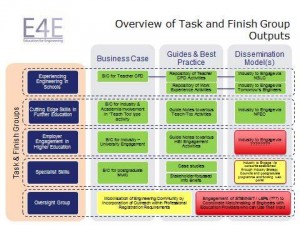 See the overall programme structure here, together with the working group chairs and participants.