An interim assessment of placed UCAS applicants for this autumn highlights that engineering follows a sector-wide slide in placed applicants overall but bucks a sector increase in applicants placed from the EU and a bumper crop of placed applicants from overseas.
Of course, this is only part of the story – in so far as it is limited to undergraduate unconditional firms through UCAS, is a snapshot taken quite a while before movement is complete, and will not translate directly to enrolments – but the findings highlight the importance of getting a better picture of actual enrolments as early as possible. The only way to get an early look at the patterns of actual enrolment is through the EPC's engineering enrolments survey, and the more universities participate, the clearer the picture will be. Never has this early insight been so critical.
UCAS data highlights
Applicants placed on undergraduate engineering courses through UCAS looks set to fall for the second year running. The latest UCAS data, which gives the 2018 entry position 28 days after A level results, shows that the number of applicants accepted to engineering through UCAS has fallen below 28,000 at this point in the cycle for the first time since 2014.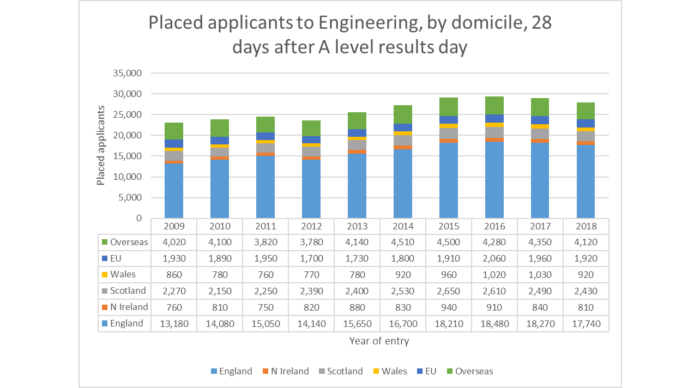 A look at the national context across all subjects shows that engineering is following the overall trend.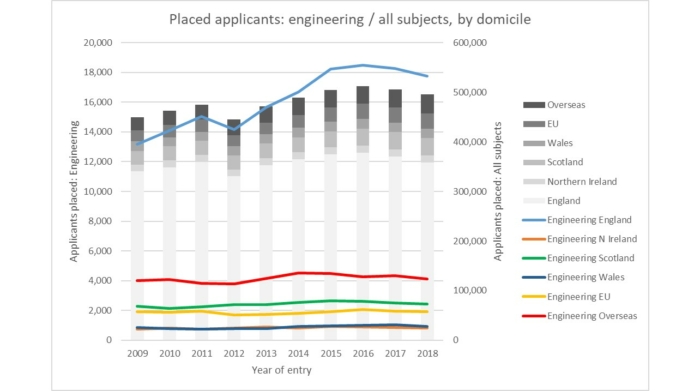 But for pockets of undergraduates, is the outlook worse for engineering? For those from England, the growth between 2009 and 2016 was certainly stronger in Engineering, and the decline is marginally less. This is positive news and represents a significant slice of the market. However, for placed applicants from the remaining UK administrations engineering appears to fare worse than the sector as a whole. And while the sector saw growth in placed applicants from the EU and overseas (as well as those from Scotland) between 2017 and 2018, engineering did not.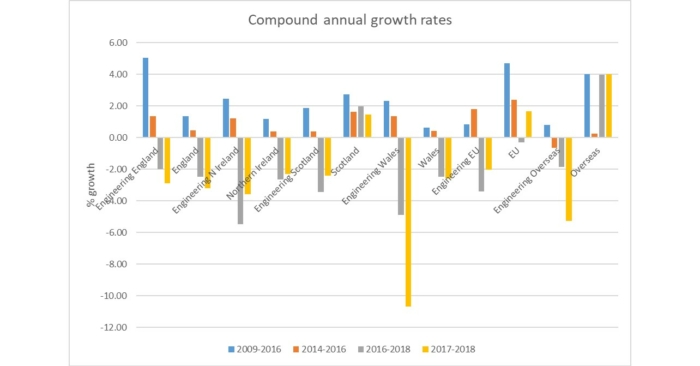 Of course, this interim assessment of the 2018 cycle isn't yet the full UCAS picture, and I am reminded that a count of unconditional firm UCAS applicants doesn't translate to the bums on seats at enrolment (or even full admissions data).
It is not yet possible to say which engineering disciplines have been hardest hit in UCAS terms as data at engineering discipline level won't be available until late 2018.
However, the findings of the EPC Engineering Enrolment Survey will be launched on 14th November at the annual Recruitment and Admissions Forum which will be held this year at Sheffield Hallam University. The preview of enrolment patterns to engineering courses at UK universities is critical benchmarking data, valuable for any staff with an interest in recruitment or admissions for engineering departments. Our survey gives us all a first glance at engineering enrolments long before official HESA data becomes available. You can complete this year's survey via the EPC website.
The Forum also welcomes Helen Thorne, UCAS' Director of External relations, who promises to share unprecedented insight into undergraduate engineering trends and applicant behaviours. You can book your place here.
The full data on which this analysis is based is available to download from the UCAS website.