As one of the initiatives to celebrate its 20th Anniversary in its current form, the Engineering Professors' Council offered its members the opportunity to bid for funding for public engagement projects which:
help share expert knowledge through collaboration with partners without a science or engineering background and to reflect on the social impact of your research; or
develop creative activities to communicate in new ways and/or to new audiences; or
design and deliver bespoke leadership development activities for those working in engineering in higher education that equips them with communication and public engagement skills; or
develop initiatives which help businesses, particularly SMEs, to interact more productively and effectively with universities.
We were looking for a new general approach, not a specific topic that might be appropriate for a knowledge transfer project. The scope was deliberately broad. While it could have encompassed completely new ideas and activities, it also allowed the possibility of  building on existing initiatives that had worked well locally or regionally but which might, with some additional funding and/or through collaboration with other Engineering Professors' Council members, extend the reach and impact to the national level. Four candidates were shortlisted following a panel review of the submissions we received and were then invited to Congress 2014 to pitch their proposals to delegates. In sessions entertainingly and expertly chaired by the University of Liverpool's Professor Peter Goodhew FREng, the candidates had 15 minutes (with a 5 minute recap the following day) to outline their proposals and then delegates were invited to responded to 2 questions:
Does the proposal articulate appropriate public engagement objectives, which are likely to be achieved?
Could you imagine you or your colleagues taking up aspects of the scheme and using it in your university, or it being developed as a national scheme?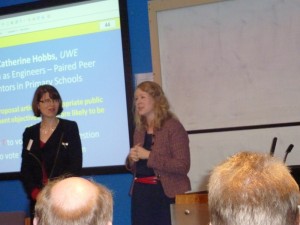 Each candidate needed to receive 50% of the available vote in BOTH questions to be eligible for final ranking for up to 2 awards of up to £10k each.
Delegates decided to make 2 awards – to Dr Catherine Hobbs of the University of the West of England – pictured above left with colleague Laura Fogg-Rogers (£9,514) and Dr Emma Carter of the University of Sheffield  – pictured top right- (£8,000).  You may read summaries of all four proposals here and the successful applicants will be updating future Congress delegates on their progress.
University of Durham
RED ALERT (The Role of Engineers in Disaster relief: Adding Learning Experiences and Relevance to Teaching).  
The aim of the RED ALERT project is to design a series of one-day workshops to engage school students with engineering by highlighting the role of engineers in disaster relief. The intention is to present engineering as a multi-faceted profession. This will be achieved through collaboration between three partners, all with established reputations in the field of engineering engagement: Durham University; the Institution of Civil Engineers (ICE) and Engineering Without Borders (EWB), bringing together a university, a professional body and an educational charity. The collaboration will consolidate activities that each partner organisation has developed individually to provide high profile motivational engagement events for school students. These will be held as a series of 1-day "disaster workshops" based at Durham University, attended by school groups from North East England.  Through problem solving activities, workshop participants will be introduced to key concepts in engineering (constructing bridges, shelters, flood defences and developing water purification, renewable energy and waste water treatment systems). This will be complemented by short talks and presentations by young researchers from the Institute of Hazard, Risk and Resilience about on-going research projects relating to natural disasters. Video podcasts of engineers describing their experiences of disaster relief will also be included. The aim is to broaden the students' general understanding of what it means to be an engineer and what engineers do, to include creative and humanitarian dimensions. The workshops will be run by student and graduate ambassadors and hence enhance their communication/engagement skills. It is intended that these initial workshops will eventually become a national resource used more widely throughout the UK.
Imperial College
Bioengineering is the application of engineering principles to biological or medical problems. In this project we bring together relevant engineering expertise from a range of discipline to find solutions to specific clinical problems through the development of rehabilitation and assistive devices. This project builds upon the success of an undergraduate engineering course H-CARD (human-centred design of assistive and rehabilitative devices), utilising the course to provide an opportunity to engage industry, clinicians and the public with the results and the process of rehabilitation engineering.
Through the project students from across the Faculty of Engineering will work together in multidisciplinary teams inspired by clinicians on the issues their patients face the students will develop their solutions using the MIMATE platform. Clinical and industrial expertise will be sourced through a series of seminars about the issues encountered by patients and the process of developing rehabilitation and assistive devices at the industrial scale. The ingenuity of student engineers will be showcased at an open public event with an exhibition of the H-CARD and Sports Innovation Challenge projects. It will provide an opportunity for the public to interact with the engineers through activities, facilitated discussions and workshops. To engage the next generation of engineers we will create an interactive workshop about rehabilitation engineering for 15-18 year olds which will be delivered at the Headstart workshop in July 2015.
This project showcases the potential of bioengineering to revolutionise healthcare through engineering innovations, and the necessity of collaborative working and creativity and innovation in engineering.
University of Sheffield
The UK is struggling to recruit young people into professional engineering careers and the industry is particularly failing to attract enough girls. Part of the reason is the lack of female engineering role models available to go into schools to talk to children about engineering and dispel the many myths and stereotypes responsible for putting off potential talent. The aim of the project is to produce 5 short films (around 10 min duration each) showcasing female engineers working on a variety of exciting projects in industry and academia. Each episode will focus on a specific technology or area of engineering research and will include clear explanations of an engineering concept aimed at Year 6 – Year 9 pupils (both girls and boys). The engineers appearing in the films will be carefully selected for their subject area, their excellent communication skills and dynamic personalities and most if not all will be women. A professional camera operator will be used to ensure high film quality. The films will be made between July and September and uploaded to You Tube. The project will be promoted to schools (with accompanying 'Teacher's notes' to include extra information and suggested discussion points) via known contacts, direct marketing, press releases and social media.
UWE
Children as Engineers – Paired Peer Mentors in Primary Schools
We believe Engineering is the key for raising interest in scientific studies and careers – 95% of our environment is human-made, but this engineering emphasis receives limited attention in the current school curriculum. This project brings together university student engineers and trainee teachers, to co-design, mentor and enact hands-on challenges for primary schoolchildren, bringing about cost-effective and sustainable change. Solving real world problems is essential for understanding how the human-made world works and can be highly motivating and meaningful for pupils. Girls in particular gravitate toward science disciplines that have an evident benefit to society, which can be demonstrated by the Engineering Design Process (EDP) – 'Ask, Imagine, Plan, Create, and Improve.' Proven engineering challenges developed to demonstrate these principles will be adapted for local schools by paired peer mentors from the University of the West of England, Bristol. Undergraduate engineers will gain communication and public engagement skills, to convey complex engineering principles to primary school communities. Trainee teachers will improve Science, Technology, Engineering and Maths (STEM) knowledge to widen their teaching repertoire.  Local schoolchildren will be introduced to engineering skills at a young age, with unrivalled opportunities to test their creations and present their findings to peers. Building on the successful European  7th Framework project,  'brEaking New Ground IN the sciencE Education Realm (ENGINEER)' and the US 'Engineering is Elementary (EiE)' programmes, this new approach for delivery and dissemination will influence the next generation of engineers and teachers for a lasting impact on UK science education.