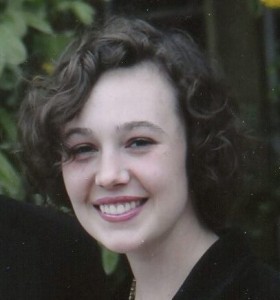 Julia Attwood is a PhD candidate at the University of Cambridge and received one of the two runner-up prizes in our 2014 student essay competition. Born in Canada, Julia has also spent time in the Netherlands, Scotland and England. Though initially determined to pursue a career in law, she was persuaded to study engineering by two very tenacious mechanical engineers; her parents. Julia graduated in 2011 with a BA MEng (Hons) in Mechanical Engineering from the University of Cambridge. During her undergraduate degree, she took up several internships at Granta Design, writing and recording tutorials for their materials education software, CES Edupack. She also worked with Professor Mike Ashby to develop the first edition of the Energy and Low Carbon Power database. Julia then began work on a PhD, also at the University of Cambridge, researching the ballistic resistance of high molecular weight polymer composites. She also supervises first and second year undergraduates, providing supplementary teaching of the materials courses, as well as offering one on one writing tuition through her college. In her spare time, Julia is a keen rower, and has held various positions on college committees, including Captain of the First and Third Trinity Boat Club, and Secretary of the BA Society (Trinity graduate student society).
With both parents engineers, she was encouraged to ask "why"?  Or perhaps in the context of this competition – "why not"?
Read Julia's essay below
"Why do you think that boat floats? Why does the hull have that shape? What's the best way to halt a crack in a bulkhead?"
These are the questions I was asked as a girl when my father would drive us down to the shipyard on our way home. I learned the meaning of pitch, yaw and roll by the movements of my father's hand, and the motion of my uncle's lobster fishing boat under my feet. Growing up in Atlantic Canada, I saw the necessity of engineering in our lives and society; how it helped the fishermen to come home safe, allowed huge cargo ships to glide majestically through the harbour, and harvest the oil and gas that brought my small city prosperity. I was lucky enough to grow up among problem solvers, people who could show me real, tangible results of their day at work, whose eyes lit up at the sight of a home improvement challenge. Perhaps even more significantly, I had a role model in my mother, who was also an engineer and still proudly wore her iron ring. If you had asked me what an engineer was when I was 10 years old, I would have said 'my parents'.
Very few children will grow up in this type of environment, and no doubt it made my journey to the profession easier and more obvious. However, there are many ways that engineering can be brought to the attention of young people and made a bigger part of their lives. I don't believe that any one of higher education institutions, industry or the Government can accomplish this independently of the others. In this essay I will present my own theories about how this can be accomplished, based on the education systems and cultures I experienced in both Canada and the UK. Engineering is by no means a dying profession, but if it is to become the aspiration of the next generation, it needs some rejuvenation.
The world economy suffered a heavy blow in 2008 when the banking crisis threw some of the most powerful countries in the world into disarray. The economies that have recovered most effectively are those that are based on commodities and industries. The UK economy is currently worth $2.44 trillion, with two main contributing sectors: Services (78%) and Industry (21%) [1]. Possibly a more important metric is the UK economy's trade deficit. The country imports goods valued around $650 billion, while exports were valued at around $480 billion [1]. This represents the second largest trade deficit in the world, after the USA. In order to protect Great Britain's economy from future financial storms, a strong engineering and manufacturing sector must be developed. The Government has recognized this and is eager to promote and support burgeoning industries. A solid base of engineering skills is essential to this achievement.
The first step in bringing engineering to the forefront is to ensure it has a place among the most respected professions. In Canada, engineering has always been one of the most trusted professions. Vocational degrees are highly prized, with the highest achieving students in the physical sciences aiming to be engineers. Upon moving to Britain, I saw a startling difference. The fact that 'engineer' is not a protected term in this country, as it is in Canada, France, Germany and the US, causes it to mistakenly lack the prestige of other professional occupations. There seemed to be little respect for my profession, we were considered the least of the best. I think there is nothing further from the truth. Engineers have the ability to make powerful contributions to the economy, the skills to find solutions that make our lives better, and the chance to solve our deepest energy and environmental problems. Engineers are consulted for policy guidance in parliaments and approached by the medical community to develop technologies to fight disease.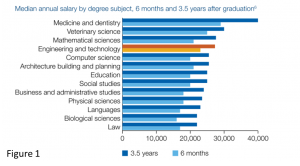 In our capitalist society, respect is often demonstrated by payment. In his Review of Engineering Skills [2], Professor Perkins presented a graph of the early career salaries of graduates with various degrees (Figure 1). This plot rightly shows that an engineering degree gives young people the skills required to gain prosperous careers. However, aware that many of my British engineering-educated colleagues chose other jobs after graduation, I was curious as to how these figures compared to salaries across different occupations. These data are shown in Figure 2.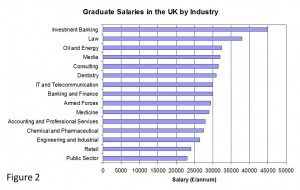 Figure 2 shows that, with the exception of the oil and energy industries, UK engineering starting salaries lag far behind their professional counterparts. Moreover, UK engineering salaries three years after graduation (£28,500 [2]) remain lower than starting salaries in Canada, (£37,000 ($67,000 CDN) [4][5]) and Germany (£35,500 (€42,500) [6]). In order to attract the best and the brightest to engineering in the UK, both the salary and the prestige of the profession must reflect its importance to the country.
The recommendations I have presented so far, to protect the term 'engineer' and increase salaries, can be encouraged by higher education institutions, but are mainly the prerogative of government and industry. However, by considering the differences between my own experiences in Canada and Britain, I have also determined some areas where I believe the education system can make a difference to the attractiveness of the profession.
When I was 16 and attending school in a small town in Northern Scotland I had a physics teacher with an engineering degree. One morning he brought a tiny external combustion engine into the classroom. He explained how the flame from tiny propane candles caused the working fluid to expand and contract, powering the pistons. It was beautiful, shiny and golden. I realized then that an engineering degree could tell me how the world was powered and propelled and connected. I saw it as a road not only to understanding, but to the principles that would allow me to create something as beautiful as this tiny whirring engine.
The questions I encountered in my math and physics classes did not inspire me in the same way. They were concerned with planes, trains and automobiles, the stalwarts of engineering in the past. When these inventions were new they enthralled a generation. However, in my naivety, I assumed that these were challenges that had already been conquered, that there was little mystery left. Everyone is aware of the search for a cure for cancer, the struggle for world peace, but what are the great engineering challenges? I believe the most compelling answer to that question is green energy. The simplest way to make engineering an attractive profession in the future is to rewrite courses to have a strong focus on these issues. Green technology is often a footnote when it should be the title. In a broader sense, perhaps schoolwork should also be revised to mirror the experiences of today's children. Many will not learn to drive until their last year of school, but most will have mobile phones and computers. Teach them how to understand the things they use every day.
I believe the diversity of engineering is one of its great strengths. I chose my current university because it offered me 2 years of general engineering before specialization. I believe that every student in the UK should be given the opportunity to understand the industry as a whole, not simply a small piece of it. In fact, I would go even further and say that the secondary school system should also consider introducing more diversity. High school students in North America may take as many as 12 courses in their final year, with mathematics and English compulsory. French students study philosophy alongside the sciences, even at university level. A student who, at the tender age of 16, decides to drop math and physics may be doing so with an incomplete understanding of what the subject becomes later on. The more opportunities you give a student to be inspired or surprised by a subject, the more likely they are to change their minds.
 I saw an example of this while tutoring the materials engineering course at my university. A first-year student announced in our first lesson that she wanted to change course. She had not enjoyed the classes she had taken so far, it was too boring, too much of the same. As we progressed through the term, she became one of my best and most enthusiastic students. Materials engineering is very different from other branches, and is not a well-known discipline, but in it she found a niche she enjoyed.
Every university hopes they are instilling in their students the skills required for a successful career, and the confidence to allow them to go out and seek it. However, walking into work on my first day of my first job, I felt I knew absolutely nothing about being an engineer. There is no substitute for experience, and in many ways I learned as much during my internships as I did at university. My first engineering degree gave me roadmaps for problem solving, my work experience allowed me to practice these skills. Canadian universities have realized the potential of work in industry as an educational tool, and many engineering programmes include structured 'work periods' which are graded and must be passed. Known as 'co-op' programmes, they offer students the opportunity to take placements at engineering firms across the country and around the world. Not only do these internships give students confidence and experience – not to mention contacts – but they are paid, allowing students to decrease their debt while studying. This alone, in a time of ever-climbing university fees, could be a significant incentive.
I would also like to touch on an issue that has shadowed me throughout my engineering education. Why are there so few women in British engineering? This is a complicated problem that cannot be easily solved by including the practicalities of making lipstick in young girls' education. This may catch them, but it won't keep them.
Women are faced with a multitude of concerns with regards to their careers, but the one that preoccupies me the most is flexibility. I will want to have children one day, and I will want to be there to raise them, along with my husband. I have been taught to juggle several stressful commitments, and I believe I can carry on, but it will require flexibility on the part of engineering employers, not only for mothers, but fathers too. Childcare in company buildings, flex-time, working from home will all help. In terms of the workplace, engineering is still largely a man's world.
My mother told me when I was deciding on a profession that as a female engineer, I would always be special, I would be conspicuous in the crowd. Every teenager wants to feel this way, and perhaps it is the best tack to take when trying to inspire other girls. It motivates me even now, when I consider a job unrelated to my field. Am I ready to be yet another woman engineer discouraged from carrying on? When have I done enough to prove the case for my gender? Fear of failure is a powerful force.
My final suggestion requires some creative thought and the support of many people across many industries, but I believe could be key to our success.
Popular culture is an excellent salesman. Television dramas bring a glamourized version of life as a lawyer, doctor or forensic technician to our living rooms, and cause a spark in the minds of young men and women. Engineering needs its own salesman. The closest I have found is Star Trek. The chief engineers were always likeable characters, but even more importantly, everyone knew something about engineering. No time was lost after a crash-landing or kidnapping before rewiring their tiny communicators to become a transponder or computer link. The shows were Gene Roddenberry's vision of a Utopian future. A future where everyone was an engineer.
References
1. EW World Economy Team, The Economy of the UK, GB, British Isles (or Whatever You Want To Call It), 12 June 2013, http://www.economywatch.com/world_economy/ united-kingdom/?page=full.
2. Perkins, J. Review of Engineering Skills, Department of Business, Innovation and Skills, November 2013.
3. Mosesbet, A. Top Graduate Scheme Salaries by Industry, Graduates.Co.Uk, http://www.graduates.co.uk/graduate-scheme-salaries-by-industry/, 16 December, 2013.
4. Tencer, D. Best Jobs and Cities for Grads in Canada, The Huffington Post, 2 July 2013, http://www.huffingtonpost.ca/2013/07/02/best-jobs-cities-graduates-canada_n_3535198.html.
5. Statistics Canada, Earnings, average weekly, by industry, http://www.statcan.gc.ca/tables-tableaux/sum-som/l01/cst01/labr73a-eng.htm, Modified 27 March 2013.
6. Study in Germany, The career ladder calls!, https://www.study-in.de/en/life/job-money/career-after-your-studies/–21264.