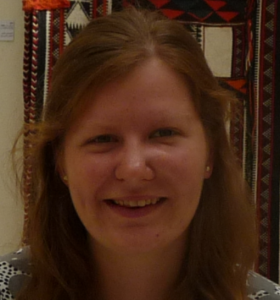 Eleanor Earl is an MEng candidate at Cardiff University and was awarded one of the two runner-up prizes in our 2014 student essay competition.
Originally from Sussex, Eleanor is in her fourth and final year studying Civil and Environmental Engineering at Cardiff University. This autumn she shall start working for Arup as a Graduate Civil Engineer within the Infrastructure Team.  Since starting university, she has been an active member of Engineers Without Borders UK (EWB-UK). Over the last four years, Eleanor has been involved with her local Student Branch and Professional Network in Cardiff, as well as working with the National Executive of the charity. She regularly takes part in outreach activities both as part of EWB-UK and as a STEM Ambassador, getting young people involved in engineering.  In her spare time, Eleanor enjoys travelling. Most recently she visited Jamaica on an IAESTE placement, to work for a small engineering consultancy in the lively capital Kingston. She also enjoys sports and being outdoors, playing squash regularly at university and visiting the hills of South Wales and the South Downs whenever possible.
Read Eleanor's essay below
Over 2.4 million remain unemployed in the UK1
A worrying statistic, but should the engineering community view this fact with pessimism or apprehension? Fearful that many are depressed by reading reports on 'skill shortage' this and 'critical condition' that, I shall try and redress the balance. After all, engineers love challenges!  Alas, between 2010 and 2020 engineering companies are projected to have 2.74 million job openings across every level of engineering profession2. Shouldn't we count ourselves fortunate that we have a sector that still can flourish in the current economic climate (although I do recognise it has declined in certain sectors)?  Let us look at the positives.  The UK is in a great position, we have:
 world class engineering universities and research

world class engineering companies

world class reputations for engineering expertise and projects
The engineering sector contributes over 28% or the UK economy3. Although, being a modest engineer, I reckon it is closer to 100%, as nobody could drive to work or turn on a computer without us ! It is much harder to turn this statement on its head and ask where engineering does not play a part in the UK economy. Approximately 1.28 billion people live in extreme poverty  (defined as average daily consumption of $1.25 or less)4. Our UK engineering impacts (both positively and negatively) on this statistic. Can we risk thinking just in a UK context, whilst we contribute and bear the impacts of a globalised economy, especially, if we if we wish to increase this contribution further? In every corner of our world economy you can see the huge contribution that engineers  and  engineering  makes,  from  consulting  with  the  government  on  new infrastructure plans to research advances in nanotechnology.
Who am I? Do I have an identity crisis?
So what is an engineer? Like any resourceful engineer I used the internet, and googled myself to resolve this identity crisis: ''someone who solves problems using mathematics and science for society".When visiting schools as a STEM Ambassador, I have seen that for many young people, engineers appear to be limited to fixing cars and white goods in our homes.  It is easy to forget how they brushed their teeth or made toast before they even reached schools that morning, although we all make a fuss when we cannot do either of those everyday activities.  Surely, this mentality does not help our engineering dearth? There is no need to point fingers towards anyone. Instead we should all analyse and progress what we already all do to educate young people to think otherwise.  How can we inspire young people to follow a career in engineering? From a recent poll as part of Tomorrow's Engineers Week it is clear that the influence of school visitors and teachers on career choice is great but the influence of family and carers is greater. From this we can glean at least two key points: i) we may not have to venture far out of our immediate circles to make a difference and ii) outreach in schools is working well but we need to up our game. It should be recognised that no communities should be forgotten, especially if it is without its own engineering role models.
It is a truth universally acknowledged that a shortage of females exists in UK engineering
The UK has the lowest proportion of female engineers in the EU, with fewer than 10% of engineering professionals being women5. Surprisingly, nearly half of all co-ed schools failed to enter a single female candidate for A Level Physics in 20126, leaving few with the right qualifications to move on to many engineering roles. As we have all heard before, we should try to maximise the influence of half our population and consequently boost our economy.  This is partly the role of higher education although it mostly works with the 'converted'.  There should be more recognition for existing university outreach programs nationally.
The great engineering brain drain
It is clear that the majority of engineering graduates move away from engineering after they graduate. Why do we lose engineers? There are many factors, some of which cannot be controlled and others that as a sector, we must try to address. Influences may include:
More generous salaries in other sectors?

A lack of desirable jobs?

Inadequate basic skills, and experience beyond qualification demanded by the market?

Heaven forbid, boredom
Should the proportion leaving the industry always be a negative? At least this spreads engineering skills to other sectors and shows the transferability of engineering expertise in to other sectors? To ensure this is not a problem we could input more budding engineers, see figure 1, so that the 'losses' do not affect the overall number so greatly (but, of course, this is much more easily said than done).  Alternatively, higher education has a role in making sure these high losses are incurred. People can only make decisions based upon experience. More inspiring university lecturers, courses and opportunities might ensure people stay in the industry. Also, the delivery of effective careers information is needed, whether this be  courses, careers fairs, talks or more informal networking opportunities.It is widely recognised that there will always be need for theory to be instilled into students and if we are to solve complex problems, often from first principle, a solid grounding in traditional engineering skills and methods is imperative. In addition stimulating projects, working with industry with the opportunity to use the work in real projects is crucial.   Particularly at a time, when in some engineering sectors, it can be as difficult to gain summer work or a year in industry as it is to obtain a graduate position. These projects may also open student's eyes to opportunities in the engineering sector beyond the confines of a 'typical' engineering course. 
"Don't  judge each day by the harvest  you reap but by the seeds that you plant" R L Stevenson
We are fortunate that there are many new projects and initiatives to provide students with these inspiring experiences and this should be praised for the impact they provide. Unfortunately, there is only space to detail one of these.  A recent introduction to universities across the UK has been the Engineers Without Borders (EWB) Challenge, see the case study box below.   As you may know, Engineers Without Borders UK is a small charity, which only began in the early noughties.  Their approach 'puts students and young professionals at the centre of our operations, providing them with resources and contact to help them become development professionals'7.  Of course, not every engineer will work for international development causes.  However, it is true that we must all be 'global engineers' and this is one project where these skills may be gleaned.  Engineers Without Borders UK also supports the development of students and graduates through courses, international placements, training and through the management of their student branches.  Over twenty-eight branches exist nationwide, led by students who organise a variety of activities both inside and beyond their universities.  This enables students to develop many 'soft skills' key to the industry. Universities have a great, often untapped, resource: students. Students have time and often boundless enthusiasm for their course. They may only be a couple of steps further in their engineering journeys thus enabling younger students, only a few steps behind, to relate to them. 
Case study: EWB Challenge
The design program is for University students and was originally started by EWB Australia. The challenge provides students with the opportunity to learn about design, teamwork and communication through real, inspiring, sustainable and cross-cultural development projects7.
This year, students have worked on a project providing engineering and design solutions for project in communities in Timor Leste. The students' ideas directly support the work of EWB-UK and its partner organisations whilst enhancing the innovations of young engineering thinkers. The projects are also reviewed at a national design competition, enabling feedback back to the students from those working in the sector, on similar projects.
In the past the students' concepts have also supported communities in Vietnam, Nepal, India and Cambodia. In addition, students from architecture, planning, science, business and social sciences are all encouraged to participate, therefore enabling cross-circular developments and furthering the understanding of the role of engineers to other career avenues.
Implementing  these  projects  may  involve  risks  to  be  taken  by  higher  education establishments, in addition to significant investment of time and funds. This may be difficult at a time when they have been hit by reduced funds, reductions in staffing, the need to maintain accreditation and the pressure of engaging the 'nine-granders' in their courses.
Inspiring a generation
As iterated earlier, you can only make decisions through experience. Therefore it is critical that engineers in every stage of their journey, have people to aspire to be like and are provided with inspiring experiences if they are to be motivated and (healthily) challenged in their working environment. There are many male and a significant number of female role models in the industry that must be celebrated. This should be orchestrated at every level by industry and educational institutions, with support of the media.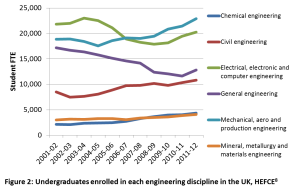 It's interesting to note that the number of Civil Engineering UCAS applications peaked in 2011/128, see Figure 2. Perhaps this is partly due to the iconic developments of the period including the Olympic Park and the Shard? Surely, media attention in these areas makes a difference to the outlook of future engineers? In addition, public attention valuing the work of engineers might help engineers towards feeling that their work is valued in society. Perhaps this is optimistic, but maybe, just maybe, this helps us avoid losing valued specialists to the 'brain drain'. It should be noted that there is a recent steady increase in all disciplines, hopefully this is the sign of things to come.
A political perspective
It is clear that the Government is gradually realising the benefits of engineering in the UK indicated by their use of engineering views in policy and through investment in education, academia and industry. However, as we all know, investment in large infrastructure projects comes slowly, Heathrow's third runway, High Speed 2 and the Severn Barrage are all yet to materialise. As the media regularly reminds us, the government often described as having short-term views and battles to keep public opinion on its side making socially divisive decisions difficult.   But if we are to live in a democratic society with sustainable planning regulations, is this the price we must pay?
It has been argued that careful redistribution of tax credits is required. Dyson Report, noted that  redistribution  of  the  research  and  development  tax  credit  scheme  from  big corporations to SMEs and start-ups my stimulate change9. In addition we have to decide whether large corporations should gain tax breaks for industries that, although require big risks, can bring enormous financial gains. These include renewable energy parks and hydraulic fracturing or 'fracking' exploration.
"If you always do what you've always done, you'll always get what you've always got." Henry Ford
There is no one answer, no single person nor an organisation that can change the current difficulties faced by the engineering profession in the UK nor its contribution to the economy. Instead it should be viewed as an effort by everyone. Engineers are brilliant at numbers and problem solving but sometimes struggle with the writing and talking bit. Basic structural engineering taught us that we are only as strong as our weakest element.
We must educate ourselves to tackle these challenges, but without alienating ourselves, whilst overtime working to bring the next generation of engineers and our communities with us.
Our four main targets to enable change are:
To educate the public about what engineers do and why their work is integral to society and civilisation both in the UK and globally

To support and inspire and future engineers in their engineering journey by building upon outreach schemes through industry, institutions and higher education and the current curriculum.

To keep higher education courses inspiring, reduce the brain drain, and equip engineers with more of the skills they need for our global challenges.

To work with government to bring about investment in engineering and sustainable economic recovery through our sector.