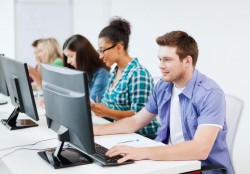 To mark its 20th year (in its current incarnation), the Engineering Professors' Council decided to inaugurate a new student award.  We were delighted to be supported by the  Incorporation of Hammermen of Glasgow in this endeavour and by the response we received.  Our first three winners were announced at Congress 2014 and you can read their essays (along with those which the judges wished to acknowledge as highly commended) here.  The topic of the 2014 competition arose as a result of the Government's focus on how engineering with contribute to the UK's Industrial Strategy and future economic well-being.
We invited students, both undergraduate and postgraduate, the opportunity to submit an essay on the following topic:
How does engineering contribute to the UK economy and how can that contribution be increased? Is there a role for UK engineering in higher education in making this happen?
The overall winner, Laura Pickard, an EngD candidate from the University of Bristol, received £1,000 and delivered an excellent presentation at Congress based on her work in response to Professor John Perkins' keynote speech on Engineering Skills in the UK.   The two runners-up, Julia Attwood, a PhD candidate from the University of Cambridge and Eleanor Earl, an MEng candidate from Cardiff University each received £500 and joined Laura and Professor Perkins in a panel session during which they fielded questions from Congress delegates.